This thread is intended to be your one-stop shop for all things Jason figure related.
"Voorhees that is, Jason Voorhees."
The first few posts in this thread from yours truly will be a running list of all figures released up to this time (hopefully to be organised according to each film entry in the 'Friday the 13th' franchise), complete with pics. This running list will need to be updated on a regular basis as new info, articals and pics are discovered and/or made available. Therefore, if all goes as planned, the first several posts from yours truly, on the first page or two of this thread, will be in constant flux--- and should be checked, re-checked, and checked back again (!), over the course of time, by those interested in this particular subject, so as not to miss out on any potential new updates.
The plan is to also include listings for some of the custom figures along the way, but let's try to keep it limited to only those custom jobs of the utmost quality. The ambitious nature of this thread...its all inclusiveness, I actually find a little intimitdating, so we'll see how all this goes. It's going to require constant maintenance on my part to stay updated, and I'm going to have to do a lot of research.
So, without further ado; we'll start things off with a news post about the newest and potentially best Jason/Friday figure to ever come down the pike...this fully articualted,(roughly) four-to-five-inch beauty from Kaiyodo/Revoltech. Straight out of Japan and saluting the 3-D sequel from 1983, this sucker is slated to be hitting us all with an initial retail price of $29.99 (which ic not bad at all for an import of this high of a degree of quality and obvious craftsmanship):
http://fridaythe13thfilms.com/blog/f...n-scene-jason/
"Full Look At Kaiyodo/Revoltech Part 3 Barn Scene Jason
By jasonsfury • July 23, 2010
"Wow, there has been a lot of figure news as of late and now comes the most definitive look at the new Kaiyodo Part 3 Jason figure. A few days ago we showed you a clearer look at this Revoltech Jason figure, but now we have the best look yet at what fans can expect to own this fall. Check out the ad below which displays definitively, all accessories included with this Jason Voorhees as well as the barn diorama display base.
The coolest parts of this figure are the fact that Stan Winston's look for Jason is utilized and also it looks as though Chris's severed head is included. All of this together looks like we might be getting the alternate ending version of Friday the 13th Part 3! Once again, thanks to Lester Romero for letting us know about this awesome figure."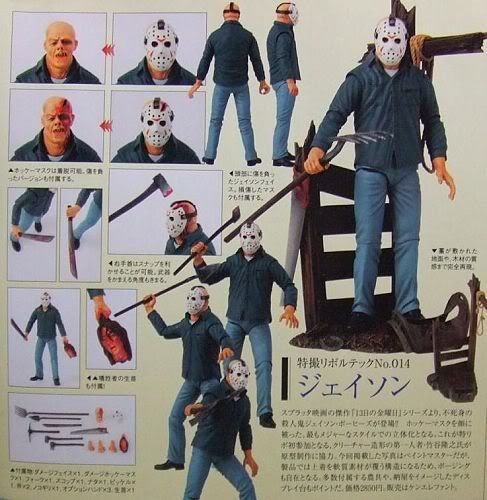 http://fridaythe13thfilms.com/blog/k...n-from-part-3/
"The new figure is indeed representing Jason from Part 3. However, the best part about this figure is that is comes with a barn scene base/diorama and includes all of the choice weapons that Jason uses in the barn during the film. If you look closely at the picture, you will see that Jason is holding the instrument that is used to bludgeon Ali after he discovers the rest of the gang dead." --jasonsfury