Mad Max: Beyond Thunderdome
Watched this before I go to see Fury Road next week.
I'm a little ashamed to admit it, but I think I enjoyed this one the most out of the entire trilogy. I was quite disappointed with Mad Max 2 because it was so slow with uninteresting characters. Only the chase sequence at the end was worth writing home about.
With Mad Max 3 I'd argue that the train finale is as good as the end sequence in Mad Max 2. However, this one has far more interesting characters (namely Auntie Entity!) and is so much more creative and entertaining. I should note that I'm a massive fan of Tina Turner and so all of her scenes were just amazing to me! She chewed up the film and I loved her character, I found her hilarious.
The plot is all over the place and if it had been more focused then it really would've been the crowning achievement of the trilogy. It loses its way when Max has a lengthy first encounter with the feral children. Once they get back to Barter Town it becomes a non-stop thrill ride though! I also loved the fight in the thunderdome itself, it was so imaginative!
What I don't like about these Mad Max films is how sweaty they all are! It's all in the desert and everyone's naked and sweating and overcrowded. The music is so loud all the time too and it just makes for a very claustrophobic experience. Other than that, Mad Max 3 is my favourite.
7/10
Harry Potter and the Chamber of Secrets
An improvement on the first one. I actually really enjoyed it! There's a lot of imagination and lovable characters. The directing is also much better in this one. It's just a nice little entertaining film. The special effects are still pretty impressive!
7/10
Fat Girl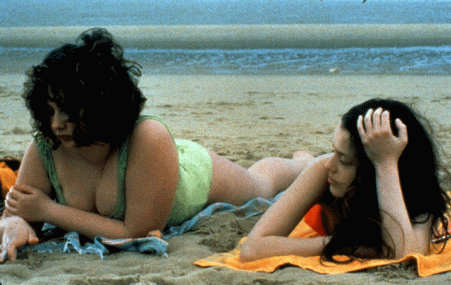 Sex-obsessed director, Catherine Breillat has only gone and done another film about sex! Well, actually Fat Girl is over a decade old now so sheís done a few more sex-related films which Iím yet to see. In fact, Fat Girl is my very first taste of Catherine Breillat and Iíll definitely be tucking in for more if theyíre all as tasty as this one. For those who donít know, Fat Girl tells the story of a chubby 12 year-old gal and her sexy fifteen year-old sister who may as well be called Lolita.
The film is pretty short and simplistic but it definitely leaves a lasting impression. I suspect that most people would find it boring because the scenes are extremely long and drawn out. The longest bit must be the extended foreplay scene in which Lolita and her fancy man are on the verge of doing the dirty deed. Not one moment of the film bored me though. I found myself sucked into its atmosphere of stark realism and drawn to the engaging characters.
I was also really impressed with the young actors. AnaÔs Reboux who plays the fat girl in question was particularly enthralling. Itís important to bear in mind that she was only twelve years-old at the time of filming and itís a fairly challenging role to play which deals with adolescence, sexuality and sibling rivalry. Thereís a lovely tender moment between the two siblings where they lay on the bed and joke together. It feels very genuine and just goes to show how brilliant the two actresses are and how realised their characters are.
The film builds up to an awkward car journey which ends in a genuinely unexpected and shocking way. Many people have condemned the ending for being shocking for the sake of it; however I donít think thatís true. If you pay attention to the first 70 minutes youíll spot a lot of foreshadowing and find that it actually has a lot of meaning which is important to the overall story. I think itís just the sudden change in tone which people find jarring and off-putting. Iím all for unpredictability though.
Quite a lot of people also complain that the film is basically child pornography masquerading as art. The BBFC even cut the DVD release of the film ďrelating to potential harm, to address the specific danger that video enables the scene to be used to stimulate and validate abusive action.Ē Iíd disagree. The scene in question isnít gratuitous (I watched the uncut Australian version) and in my unprofessional opinion isnít harmful or erotic to the rational human mind. Itís also very important to the themes of the story.
Prudes should also note that the sexy sister was actually eighteen years-old at the time of filming and that the erect penis is actually prosthetic! It is a graphic film, but it is also a film all about sex and sex does tend be to be graphic. Iím not sure why people get so disgusted about graphic sex scenes in films. We all have sex in real life so why is watching it on a screen so repulsive? Anywho, Fat Girl is not a porn film. It is an interesting story about sexual awakening. Itís beautifully acted and directed, and also has a wonderfully immersive atmosphere. Iíd particularly recommend it to fans of the new French extremity and European art films.
7/10