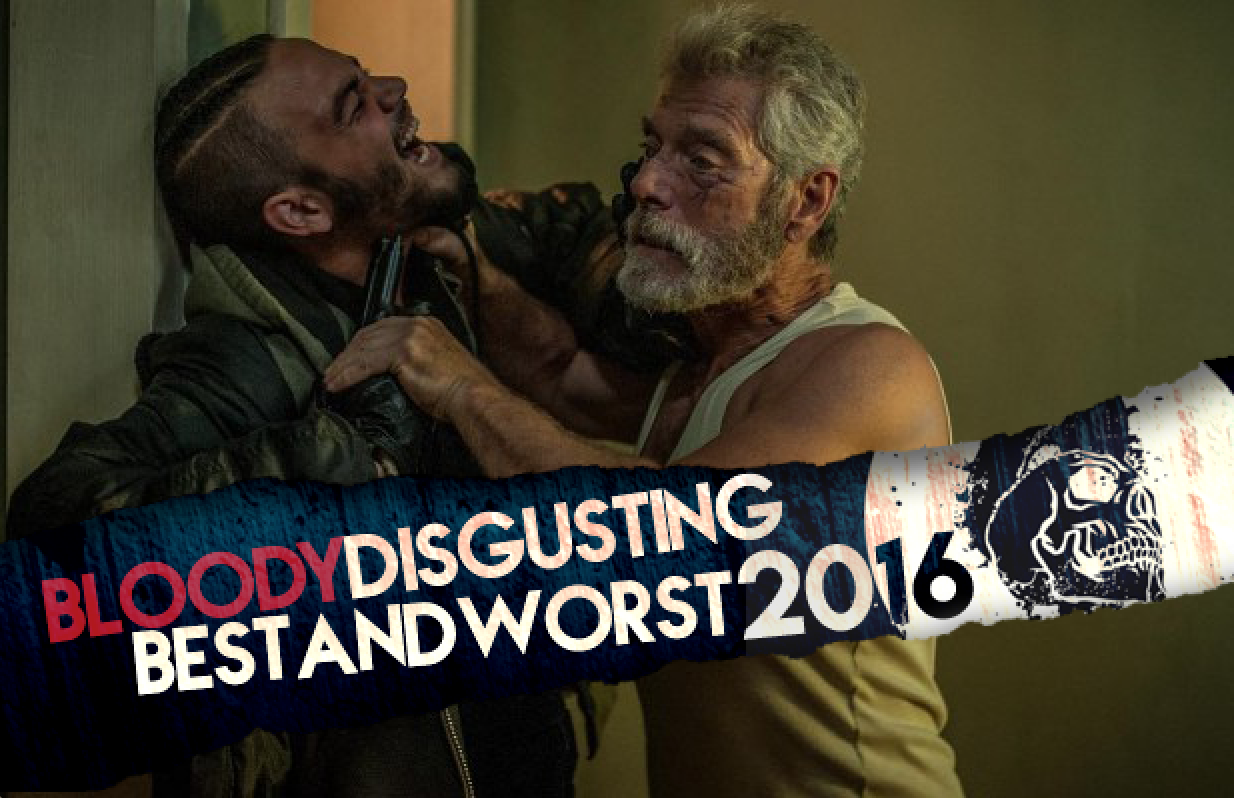 It would be a disservice to call Babak Anvari's Under the Shadow an Iranian The Babadook. The two films have a lot in common, but Under the Shadow is a different beast entirely. In his feature film directorial debut, Anvari has crafted a wonderful horror story that maintains a constant sense of dread until the credits roll. The film tells the tale of a Djinn that begins terrorizing a woman (Narges Rashidi) and her child (Avin Manshadi) after an undetonated missile lands in their apartment building during the Iran-Iraq war. It can be a little slow (the film's inciting incident doesn't occur until about 30 minutes into its 84-minute runtime) and jump scares are employed a bit too frequently, but Under the Shadow is a timeless and heartfelt story about accepting the mistakes of our past, using the Djinn as a framework around that theme.
---
It was going to be pretty hard for James Wan to top his 2013 masterpiece The Conjuring. While The Conjuring 2 doesn't quite reach the heights set by that film, it is still a noble effort and one of the best horror films to come out this year. Wan has become so skilled at crafting his scares that and creating characters that you feel a personal connection to that it doesn't matter if the story is something we've seen a thousand times before. At the end of the day it's the relationship between Ed (Patrick Wilson) and Lorraine (Vera Farmiga, fantastic as usual) that is the main draw of the film. Their relationship is the heart and soul of this franchise, and The Conjuring 2 delivers on that front.
---
8. Ouija: Origin of Evil
Mike Flanagan must have had an "I told you so" letter ready to go for when Ouija: Origin of Evil was released. Nobody expected this movie to be any good. The only thing it had going for it was Flanagan himself, and even then people (myself included) were still doubtful. I've never been more happy to be wrong. Ouija: Origin of Evil is a huge step up over its predecessor in that it actually features characters you care about. This is due to Flanagan's screenplay, which he co-wrote with Jeff Howard (I hope to God their script of I Know What You Did Last Summer gets produced), and the superb performances from Elizabeth Reaser, Annalise Basso and Lulu Wilson. Flanagan's direction is on point, even if his style may be a bit reminiscent of that of James Wan (who is the reigning champ of period horror with The Conjuring). The film has scares but the story is the focus here, and it's a great story.
---
7. 10 Cloverfield Lane
What a fantastic little film. Many feared that this would be another example of a marketing gimmick being more interesting than the actual film, and luckily that was not the case. Dan Trachtenberg's feature film directorial debut (this was a good year for first-time directors) is a claustrophobic and incredibly tense film bolstered by exceptional performances from John Goodman and Mary Elizabeth Winstead (who really deserves to be more famous than she is right now). This not-really-a-sequel to Cloverfield is one of the most suspenseful movies to be released in a long time. The final reel may feel a little tacked on, but it's a good final reel, so you can't really fault it too much for that.
---
That's right, Mike Flanagan directed two outstanding horror films this year. In Hush, he pulls a Rob Zombie and casts his wife Kate Siegel (with whom he also co-wrote the screenplay) in the lead role. That turns out to be a wise decision since Siegel is an absolute revelation in the film. Hush is a fist-pumping female empowerment film while at the same time an incredibly suspenseful home invasion thriller. The premise is centered around a serial killer who stalks a deaf woman in her home (think the final scene in Wait Until Dark stretched out to feature length). Barring one laughable scene involving a visiting neighbor, Hush is a near-perfect film. It's a real shame this didn't get a theatrical release because it's practically made for viewing with a crowd, but I digress. Hush is terrific. Watch it.
Up Next: My Top 5 Horror Films of the Year
AROUND THE WEB
COMMENTS