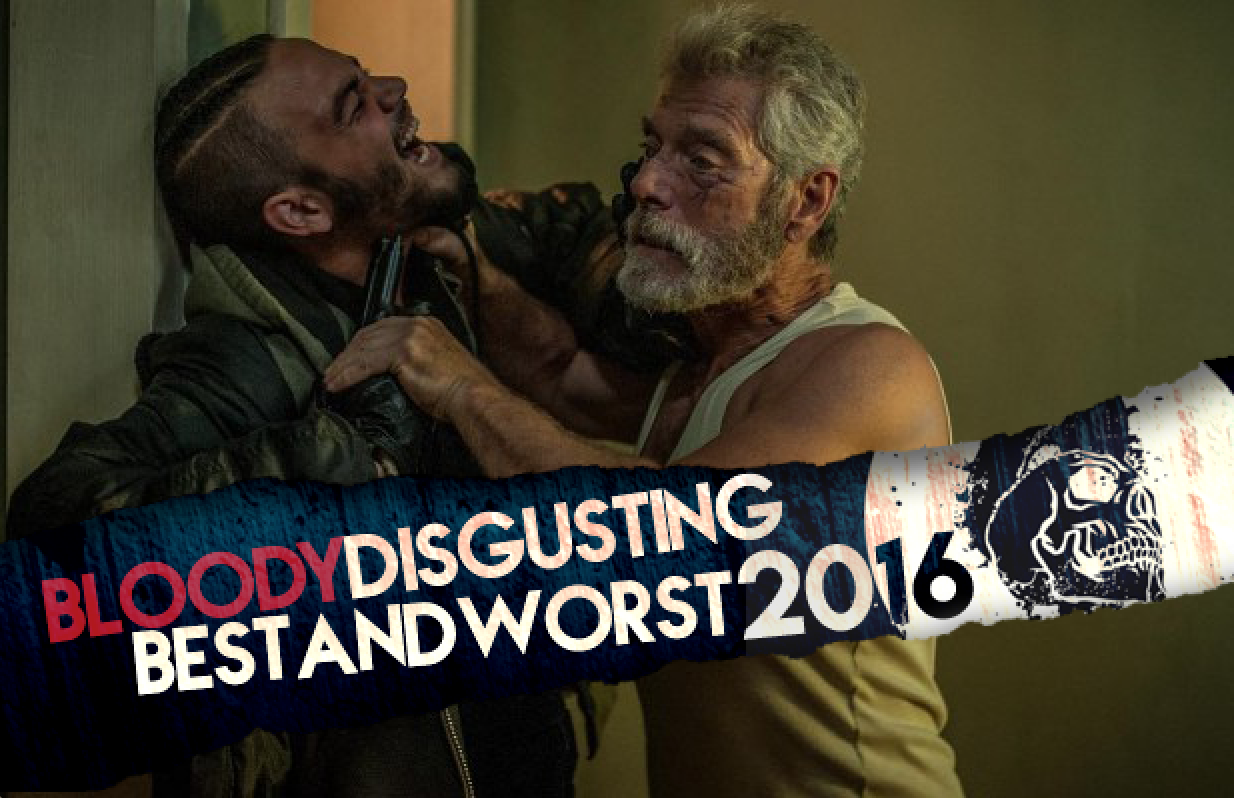 Can Evrenol's Baskin (pronounced bah-skeen, not like the ice cream company) centers around a group of Turkish policemen who are called to a remote house in a nearby town to assist some other members of the police force. Upon arriving at the house, they realize that they have just entered through a portal into Hell. You probably know whether or not Baskin is for you based on the premise alone. The plot is thin and the characters are all rather unlikable, but Baskin somehow manages to overcome its flaws to be one of the mosts compelling horror films you've ever going to see simply because it's so horrific. It knows exactly what kind of film it is and doesn't betray its roots. First-time director Evrenol (I told you it was a good year for first-time directors) has a distinct visual flair and showcases one of the best representations of Hell since Hellbound: Hellraiser II. Baskin wants to satisfy any cravings you may have for a grotesque midnight movie and it does so with aplomb.
---
4. Green Room
So Green Room doesn't technically qualify as a horror film, but it's too good to not include on this list. Plus, a lot of what happens in the film is horrifying. Jeremy Saulnier's (Blue Ruin) Green Room is an extremely fun film with excellent performances by Patrick Stewart, Anton Yelchin (RIP), Imogen Poots and Alia Shawkat. The film follows several members of a punk rock band that witness a murder in a club run by Nazis. They must then fight their way out of the club before their leader (Stewart) silences them for good. The characters are given plenty of time to develop so you actually care about them when they die (and boy do some of them die). There are surprises around every corner and tension is present throughout the entire thing. It's not an easy watch, as brutal violence is the name of the game in a film such as this. It all serves the plot though so it never feels gratuitous. Green Room is a must-watch.
---
Anyone who feared that Fede Alvarez (the Evil Dead remake) would suffer from a sophomore slump would be dead wrong. Don't Breathe is a merciless thriller that grabs hold of you from the opening moment and never lets go. It's certainly one of the most tense viewing experiences I've ever had in a theater. Much like Hush, Don't Breathe has very little dialogue, leaving Alvarez to use sound to his advantage. The sound design for the film is stunning. From a technical standpoint, Don't Breathe can't be beaten. The film is carefully crafted with Alvarez's hand and shot with expertise by Pedro Luque. Performance-wise, the film belongs to Stephen Lang as The Blind Man. He delivers an imposing performance that cements him as one of horror's greatest villains (Anti-hero? Hero? You decide.). The trio of lead actors are all serviceable, with Jane Levy delivering another fine performance after proving herself in Evil Dead (Alvarez puts her through the wringer again in Don't Breathe). The second act twist is a controversial one, but it adds a certain amount of schlock to an otherwise sophisticated thriller. Whatever your feelings on that twist a re, you can't deny that Don't Breathe is an exceptional piece of filmmaking and one of the best films of the year.
---
2. The Witch
Otherwise known as The Babadook of 2016 if only because it polarized audiences while winning the hearts of nearly every critic. The Witch is given the subtitle "A New-England Folktale", which is important to know before watching the film. First time writer-director Robert Eggers referenced actual documents from 17th century journals and other period texts when writing the script and use only natural lighting (read: candles) when filming, making The Witch feel like it was actually made in the 17th century. This is a horror film that feels like it was made by Puritans for Puritans. The authenticity is quite impressive. The Witch slowly but surely builds dread with each and every scene until it becomes nearly unbearable, culminating in a chilling climax that serves as a cathartic entrance into womanhood for its lead character (Anya Taylor-Joy, who is an actress to keep an eye on if her performance in this film is any indication) and a soul-crushing way to send the audience out of the theater. It relies solely on atmosphere and tension as opposed to the jump scares that are so prevalent in modern horror, making for one of the most unsettling viewing experiences in recent memory. It may not be scary in the traditional sense, but it is sure to stick with you long after the credits roll.
---
If you haven't seen The Invitation please stop reading now. It's a film that is best viewed knowing as little about it as possible, so I'd rather not spoil the viewing experience for you. Just know that it is amazing and the best horror film of 2016.
Are they gone? Cool. Karyn Kusama has had an unusual career. After breaking into the scene with 2000's critical darling Girlfight, she hit a sophomore slump with 2005's Aeon Flux. She then unleashed Jennifer's Body upon the world in 2009 to critical and commercial failure (it's not that bad you guys!). After a fairly long hiatus, she gifted audiences this year with The Invitation, a masterclass in unbearable tension that lasts until its explosive climax and haunting final shot. The story, about an L.A. dinner party where something sinister may or may not be happening in the background, is a simple one. Kusama takes her time revealing the true intentions of the dinner party hosts, so casual viewers may find the film to be a bit too slow (especially if you don't go in blind), but The Invitation milks every ounce of tension it can out of its straightforward premise. Is Will (Logan Marshall-Green) just being paranoid? Or do David (Michiel Huisman) and Eden (Tammy Blanchard) have insidious intentions for their dinner guests? You'll get your answer soon enough, but it all leads to one of the best third acts in cinema history. This is some nail-biting entertainment right here.
AROUND THE WEB
COMMENTS