[Interview] Bill Moseley Talks First Time Director John Geddes And 'Exit Humanity', Gives An Update On 'Manson Girls'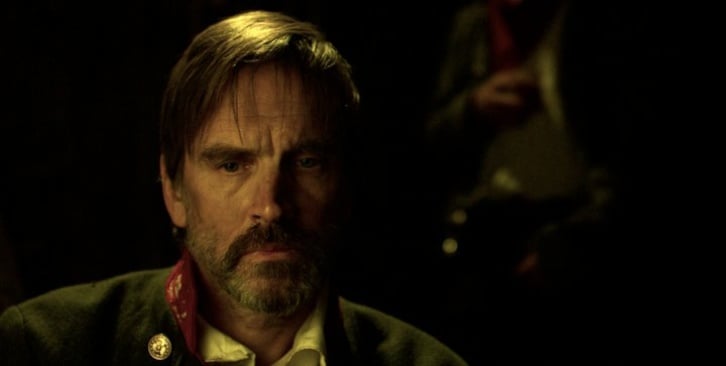 On DVD and VOD platforms June 19 from Bloody Disgusting Selects is John Geddes' post-apocalyptic Exit Humanity, which portrays a young man's struggle to survive in the aftermath of an undead outbreak during the American Civil War. The movie is heavily inspired by classic films such as Jeremiah Johnson and The Outlaw Josey Wales.
Horror icon Bill Moseley (Devil's Rejects, House of 1000 Corpses) appears in the film as General Williams. I hopped on the phone with him yesterday to talk about what attracted him to the role and what it was like working with first-time director John Geddes. We wound up talking for a while and discussed a number of other projects, so I've decided to split this interview into two parts. Today's installment will focus on Exit Humanity and touch on his role as Charles Manson in Manson Girls, while tomorrow's portion of the interview will concern The Tortured and Texas Chainsaw Massacre 3D.
Exit Humanity also stars Dee Wallace (E.T., Cujo), Stephen McHattie (Pontypool, The Watchmen, 300), and new horror hero Mark Gibson. Brian Cox provides narration. In the film, "How does a man deal with the loss of everything meaningful in his life, and the loss of mankind's humanity amongst chaos and despair? Set in 1870's Tennessee, Exit Humanity is the legend of Edward Young's horrific and dramatic journey through an unexplainable outbreak of the walking dead to lay to rest the most important thing in his life, his son's ashes. The bleak post-Civil War era backdrop highlights the severe divide that the United States was facing, and the true loss of hope that so many felt during this period in history."
Head inside for the interview, and don't forget to check back tomorrow for Part 2!
This is a period film that also deals with zombies, I wanted to talk about how you found your way into that dichotomy.
Well, first and foremost I read the script. It was written by the director John Geddes. And what was wonderful about it was that I loved the character of General Williams. A Civil War General who reminded me a lot of Marlon Brando's character of Colonel Kurtz in Apocalypse Now. The war is over but it's not over inside of him. Williams is still very much fighting the Civil War even though it is years behind him. Even though it's a strange new world of zombies with very few people left, he's walking around the backwoods of Tennessee maintaining a semblance of military order. And his great obsession is finding the cause of this disease, finding a cure for it, and harnessing the zombies into an army so the south can rise again.
Do you think that's something in his nature or something that was triggered by what he's been through?
I think the seeds are there. He's a general in the 1860's, so you're kind of a god when you're in that position. You have life and death power over a lot of people. There really are no checks and balances. Especially now, they're all gone. There are no more people like Jefferson Davis and Robert E. Lee. So the tones that I inhabit and the forest filled with zombies allow his character to continue making those life and death decisions, along with the humans I round up. I'm trying to find the person who can be bitten and be immune. I'm trying to control it and be the master of my world.
This is John Geddes' first time directing a feature. What was he like to work with on set?
He was a lot of fun. He wrote a great script and sometimes with writer/directors there is more of a reluctance to change the words. He was very collaborative and flexible in terms of trying to get the best out of any given scene. He was very encouraging and enthusiastic. I think his enthusiasm for the project really carried over and, using a zombie metaphor, infected us all. We wanted to deliver the best movie we could.
There seem to be a lot of zombies in the film with fairly elaborate make-up. What was it like working around that?
Well, fortunately I didn't have to go through the torturous prosthetics process like they did. But we were in northern Ontario, so the zombie volunteers were largely part of the local population. And I'm sure they probably had a different idea of what it would like to be in a movie versus the reality of sitting around waiting to go into makeup. And then going into makeup and sitting around for hours at a time waiting to work. These weren't the best conditions. It was rainy, it was cold and we did a lot of night shoots. Put all that together and it would dampen the enthusiasm of the heartiest of souls. But everyone was impressively enthusiastic, which was another great quality that John brought to the movie.
You've got Manson Girls coming up in which you play Charles Manson. How's that coming along?
Good. You know it's got a long pre-production. We cut a trailer that I think is going to be more of a fundraising trailer. It's about a minute and a half. I don't know how you get ahold of that. I've done a little bit and the director Susanna Lo wanted me to do was to record a version of The Doors' song "Five To One" so I did that with Guy Allison from the Doobie Brothers and I sang "Five To One" and that's the soundtrack to the trailer. In terms of moving along and doing the movie, I can't wait.
Check back in tomorrow to read Moseley's thoughts on The Tortured and The Texas Chainsaw Massacre 3D.