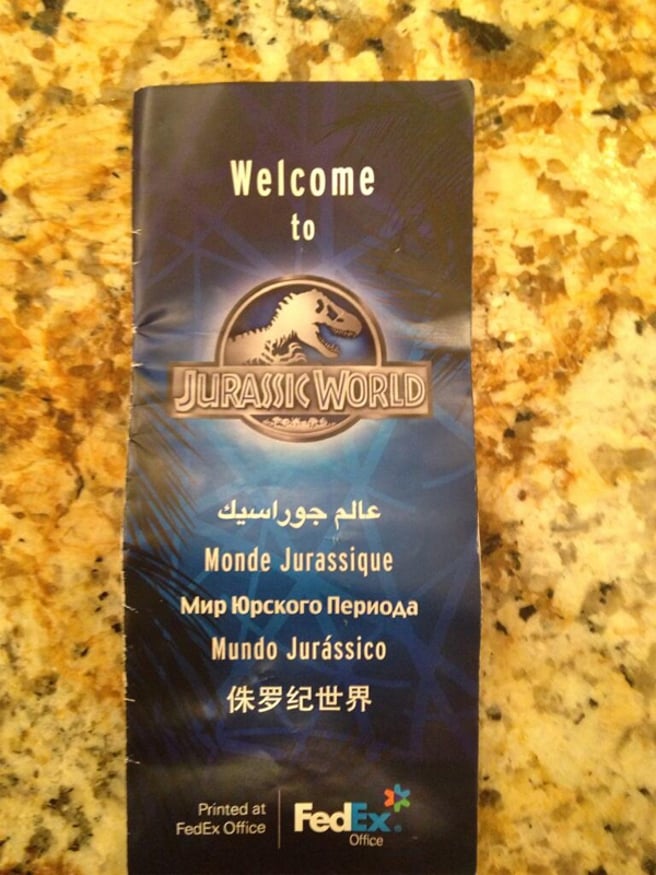 The airplane lands, you and your family get your luggage and the rental car, and head to the hotel. After checking in, you rush to be the first in line for the newly opened Jurassic World. After paying your $120 a person (John Hammond always envisioned the park as affordable, you see), you and the fam speed-walk towards the entrance and have your tickets scanned. Upon entry you're all handed a park map/brochure that details all of the park's services, events and attractions. Below is that brochure, being used in Universal Pictures' now-filming Jurassic Park sequel!
Easily one of the coolest prop image leaks in a long time, Twitter user @jurassicp2k15 shared a breakdown of said brochure that details all of the fun you'll be having in Jurassic World come June 12, 2015.
Beware of spoilers as there's all sorts of information like a tease that Jimmy Fallon hosts an instructional video for the Gyrosphere interactive ride!
Chris Pratt, Bryce Dallas Howard, Vincent D'Onofrio, and Jake Johnson all star.
I would do just about anything to get my hands on one of these…
AROUND THE WEB
COMMENTS