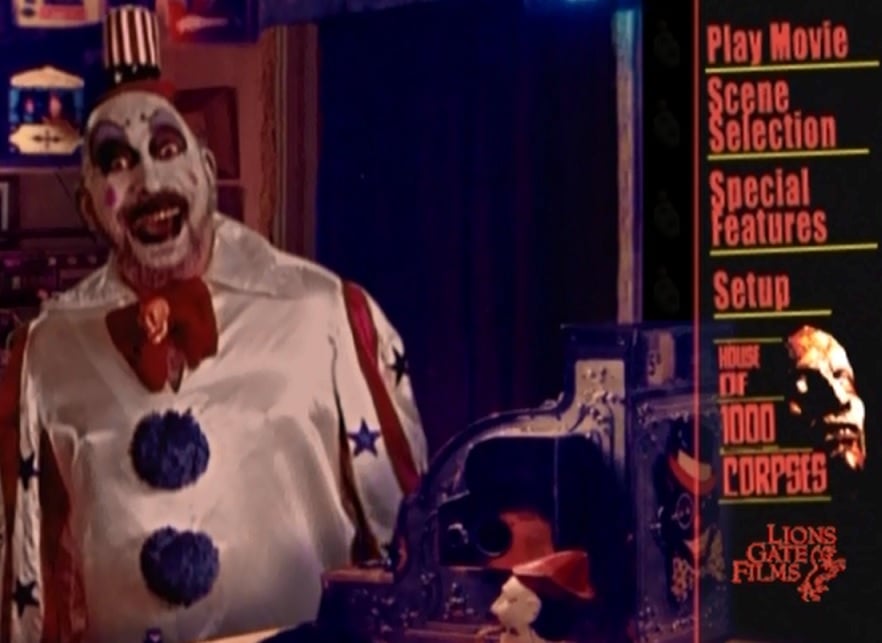 "Tiny f***ed a stump!"
Not that we ever need an excuse to write about House of 1000 Corpses, but did you know that Rob Zombie's debut feature was theatrically released 14 years ago on this very day?! That's right, House of 1000 Corpses debuted on the big screen, after all sorts of behind the scenes delays, on April 11th, 2003. But we're here to talk about the DVD, released on August 12th.
Back in '03, I was working at my local Blockbuster (the building now houses a Moe's Southwest Grill), and one of the perks of the job was the luxury of watching upcoming DVDs before they were put onto shelves. My first exposure to House of 1000 Corpses came courtesy of this perk, and to say I instantly fell in love with everything about the film would be, well, it'd be spot on.
When I say everything, I mean EVERYTHING. You know how some DVD/Blu-rays boast "interactive menus"? Well, Zombie actually went the extra mile on that, putting all other DVDs to shame with genuine interactive menus that he directed. Sheri Moon, Bill Moseley and Sid Haig reprised their roles from the film for the menu screens, which endlessly amused me back in '03.
To this day, popping the DVD in puts a big ole smile on my face. I do it often.
The Corpses main menu screen was hosted by Spaulding, with Otis hosting "scene selection" and Baby hosting "special features" – the trio together hosted the "setup" section. The in-character actors were clearly having a blast with their fourth-wall-breaking antics, telling jokes, cracking wise, making fun of Tiny for fucking a stump, and begging you to click on something.
Looking back all these years later, there was a method to Zombie's madness. The menu screens, before I even watched House of 1000 Corpses for the first time, helped ensure that I already fell in love with the three characters who would go on to become even more endearing in The Devil's Rejects. It was as if they had become horror icons before you even hit the "play movie" button.
Happy 14th, Firefly family. Hope to see you again someday soon!
AROUND THE WEB
COMMENTS