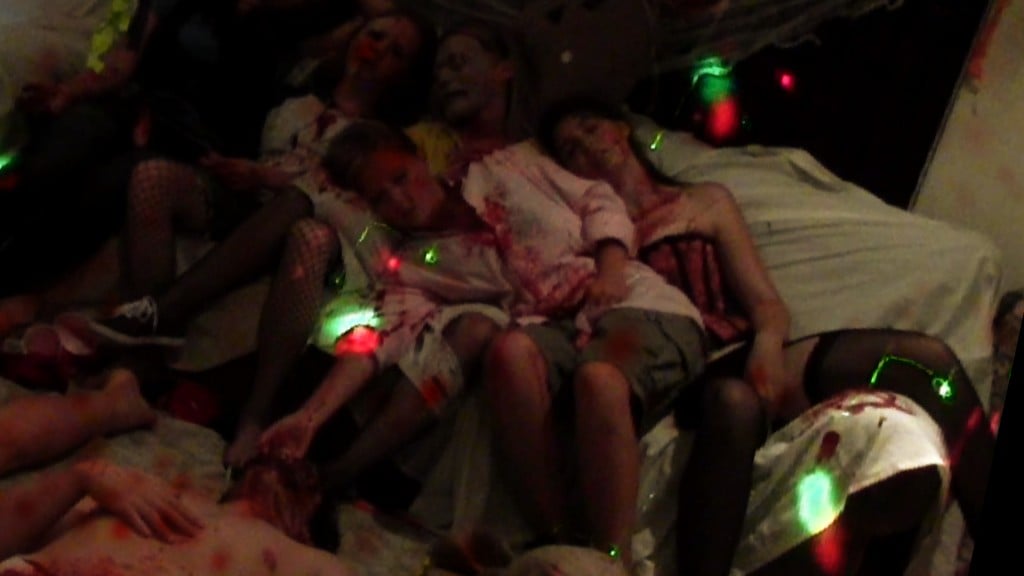 Back in November I revealed that I had been secretly working with co-directors Norith Soth and Taka Arai on their found-footage shocker Face: A Frat Party Massacre, based on the short story by Mikal Britt.
In the found-footage horror, "An annual Halloween fear competition between a fraternity and sorority goes awry when drugs, alcohol and the old battle of the sexes are mixed together. Who will win this year? At what cost? The lives of men, women and animals are at stake in this unflinching, carnal and depraved found-footage film." Sienna Beckman, Scott Alin, Brooke Diane Flint, Carolyn Matini, Lauren See, Roby Sobieski, Jessica Ann Kelley, Max Aria, Ashley Ann Alvarado, Taylor Judkin and the prolific Lex Woofer star.
We now have an official trailer for the pic, which is slated for a DVD release on August 19 (watch for a VOD announcement at a later date). As you can see, this film is really raw, dirty and ugly. I think it reflects the social commentary quite well, although some of you may not be able to stomach the style (and that's okay!).
There are currently two vastly different variations of the film, with the version I executive produced being included on the home video release August 19 (or so I'm told). No matter which version you see, I can guarantee the finale is going to beat the living shit out of your gut. I caught a very early test screening that left me feeling sick, which is how I ended up becoming involved in this bizarre found-footage flick.
The pic, which is surly going to get a strong reaction, world premiered at the Another Hole in the Head Film Festival last December.
AROUND THE WEB
COMMENTS