30 Years Later, One of the Original Screen Used 'Killer Klowns' Masks Has Been Restored to Its '80s Glory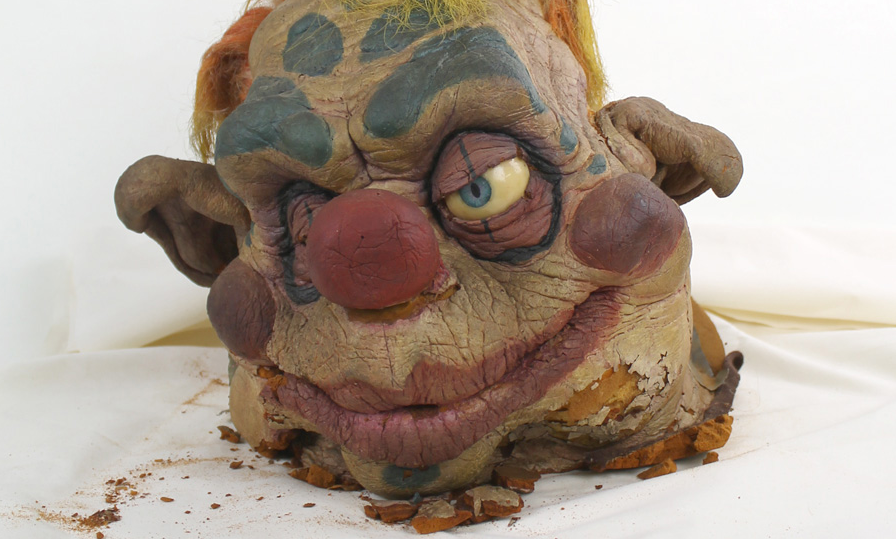 It's now been 30 years since the Chiodo Brothers brought the Killer Klowns from Outer Space into our lives, so as you might expect, those screen-used masks and costumes aren't exactly in pristine shape anymore. Thankfully, the team over at Tom Spina Designs has been restoring some of that Klowns magic to its 80s glory, with their latest project now complete.
The team details their latest Killer Klowns restoration…
"Originally created by our friends over at Chiodo Brothers Productions, this Killer Klowns mask prop came in to our NY studio in need of a bit of restoration and care. There were many cracks and pieces of material that had come loose and even a large piece of duct tape that had been stuck to the mask at some point. Over the years the lack of a interior support system had allowed the fragile material to warp.
To restore this piece of cult horror movie history, we began by patching only areas necessary to keep the piece well supported. We added a large amount of internal fabric backing by way of muslin strips and flexible archival glues to help support the foam latex mask over time as well. This allowed us to rebuild the bib area which was missing a fair amount of material. This sort of support is a key element in the conservation of original foam or latex movie props. We also carefully removed the piece of tape, being careful not to further damage the foam latex.
Whenever we restore these type of pieces we use a technique called  "in painting". This means we only repaint the areas we patched, not the original material. It's a great challenge to match the look of aged paint and foam, but worth it for the final result. As an additional step towards preservation, the whole mask was sealed to help provide a barrier to the elements and secure the original paint in the areas that we weren't patched.
With the restorations complete we gave this klown a killer hairdo, restoring his 80's classic 'do! The finished mask is displayed on a customized insert which better supports the head and bib, while still retaining his age and screen used look!"
Check out before-and-after images below. And long live practical effects!