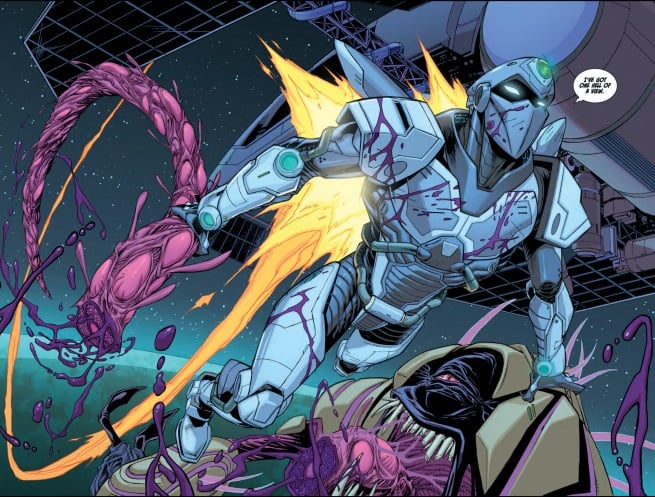 Re-launching Robert Kirkman's space-faring character, "Tech Jacket" #1 doesn't have a lot of original ideas to bring to the table, the original series being a remix of some well worn cosmic comic tropes to begin with. That said, the series promises some star-hopping fun, and who couldn't use more of that?
When it comes to his time at Image, one cannot accuse Robert Kirkman of abandoning his early work. While his first projects were short lived, once his super hero comic Invincible began to take off it wasn't long before characters from previous series like Capes Inc or Brit were folded into the larger Invincible Universe. So too was Tech Jacket, Kirkman's first original work for the company, a Quasar meets Iron Man (with some Nova, Green Lantern, Spider Man, etc thrown in) manga-esque effort, that follows the adventures of Zack Thompson (no relation to our esteemed comics editor as far as I'm aware) a high school student who becomes bonded with a powerful alien technology which he uses to defend the earth from extraterrestrial threats.
While the character had a supporting roles in Invincible's Vitrumite War storyline, he has remained largely a background player and this new series is a welcome effort to give him a spotlight. Welcome, because while far from ground breaking, the series offers the potential from some real fun comics, even at these initial stages. While Kirkman has no direct involvement in the series, the sense of humour and opportunity for fun that made the initial run of Invincible so great is in evidence here. There is also the potential to follow Invincible down the path of becoming overwrought, but I'm inclined to give them the benefit of the doubt to start off.
Khary Randolph's art is great, Keatinge's dialog captures Zack's endearing relationship with his father perfectly and now that the ground work has been laid in there could be some great adventure to follow. I'm excited for it, and you should be too.
Ooknabah AKA Brent Hirose is a writer, actor and gigantic nerd from Vancouver B.C. You can listen to his podcast about that at HugeNerds.Podomatic.Com or check out his many other projects at BrentHirose.com