Dear Universal: The Monsters ALREADY Exist In a Shared Universe!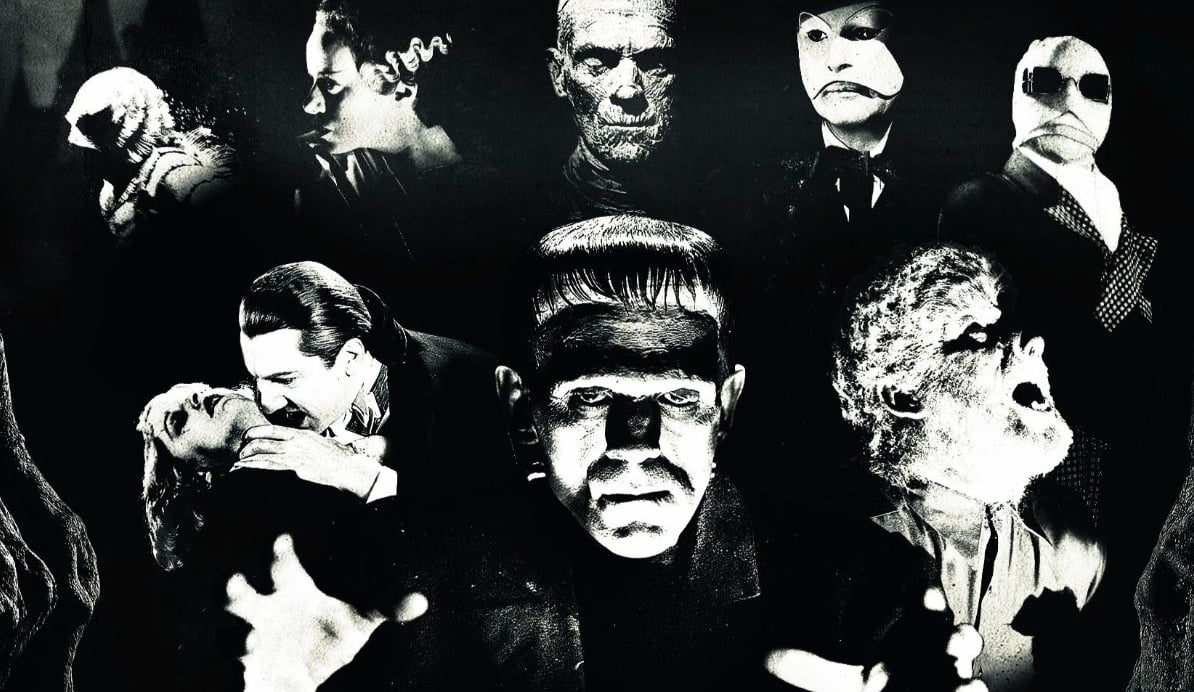 Earlier this week, Universal Studios once again stepped forward with a handful of statements about their intentions with their upcoming reboots of the classic Universal Monsters properties.  The producers overseeing these films said a lot of the right things on the surface.  The carried on about imperfect characters and the attractive darkness within all of us, which are certainly things to be found within the original films.  The problem is that anyone with a deeper understanding of those originals cannot help but be concerned by what else is said.  For instance, this early statement in the Variety piece comes to mind…
"The films are taking a page from Marvel in certain ways, however. Just as the comic book label launched its onscreen group of heroes in interconnected films before teaming them in one big superstream adventure with "The Avengers," Universal is planning to create a shared universe for its creatures. "The characters will interact with each other across movies," says Donna Langley, chair of Universal Pictures. "We're incubating it at the moment, and we're taking the time to get it right."
Do you see a problem here?  I certainly do.  Even overlooking the fact that the Marvel model simply will not work here, since most of these monsters are meant to be antagonists or tragically-cursed protagonists, not heroes, there's a huge disconnect on display.  Universal is planning to create a shared universe for its creatures?  Create what?  They ALREADY exist within a shared universe.  The original films and franchises were already interconnected and taking place within the same world 70+ years ago.
Hell, there's even a distinct continuity running through the later entries.  Why does Bela Lugosi play the Frankenstein Monster in Frankenstein Meets The Wolf Man (1943)?  Was it simply in an effort to score another name after Boris Karloff had moved on and Lon Chaney Jr. was locked into play the Wolf Man?  No.  It's because Lugosi played the malevolent hunchback Ygor in Son of Frankenstein (1939) and The Ghost of Frankenstein (1942).  In the latter film, his brain is transferred into the Monster before the finale.  Bela playing the Frankenstein Monster in the very next film makes absolute sense to anyone that has bothered to watch the whole franchise.  Hell, it'd make even more sense if Lugosi's dialogue hadn't been cut out of the film!
The Wolf Man himself arrives on screen within a tomb after having his skull crushed years earlier after the events of his original 1941 film.  When he, along with the Monster, is washed into the ruins of Castle Frankenstein, he is found there frozen within ice at the start of the next film, House of Frankenstein (1944).  That film saw the Monster meet its temporary end in quicksand and sure enough, up he pops encased in the earth in the next entry, House of Dracula (1945).
While Larry Talbot waltzes in magically alive after being shot with a silver bullet at the end of House of Frankenstein, it's not just for the hell of it.  He's coming from the events of an unmade film that was originally supposed to follow House of Frankenstein, the cancelled Dracula Meets The Wolf Man, whose script picked up from Talbot's gunsmoke-filled demise.  That unmade film also accounts for Talbot's beef with Dracula, which carries over into Abbott & Costello Meet Frankenstein (1948).
The connections don't end there.  Numerous entries in both the Frankenstein films and the eventual team-up pictures take place within a fictional place called Vasaria (occasionally also spelled Visaria).  While initially posited as a village community, it becomes clear as time goes on that it is a larger area than originally thought and might well be a fictional county/province within some undisclosed European country.
Do you think that Vincent Price's voice cameo as the Invisible Man at the end of Abbott & Costello Meet Frankenstein is a star power last minute goosing of the audience for kicks?  While you are right to a degree, you should know better now that you have read this far.  Price has played the role 8 years earlier in The Invisible Man Returns (1940) and his character had survived.  While no explanation is given as to why he is invisible again, it stands to reason that he is reprising said character.
What's my point?  Don't go on and on in your puff piece interview about how you are immersing yourself in these films as you prep your reboots, namedrop a few titles, and then expect fans to buy that you mean what you say when you actual words tell us something entirely different.  Alex Kurtzman, Chris Morgan, and Donna Langley may well have their hearts in the right place and their is a chance of these revivals turning out well once they finally arrive.  That said, don't lie and pretend that you are studying all of these films and then turn around and tell me how excited you are to bring them all to life in a shared universe.  They already exist within one and have coexisted there with one another successfully before in a series of films given to the world decades ago.
You shouldn't be coming up with ways to change these characters for a modern audience.  The character are beloved for a reason and should mostly remain intact.  What you SHOULD be studying are the sequels that began world-building the original Monsterverse, what worked in terms of those combinations, and what did not.  Unfortunately, I get to distinct feeling that those very films they should be studying are the ones they will never bother to watch.  The need to stop worrying about changing the tone and genre of these films when both have already been perfected.  Instead, focus on better ways in which to combine them while still retaining the original characters, tone, and style that audiences have loved for the past 80+ years.
And if they botch it?  Well, at least I have "Penny Dreadful"!  John Logan knows what he's doing with these characters.