You Have to Visit These 8 Horror-Themed Bars!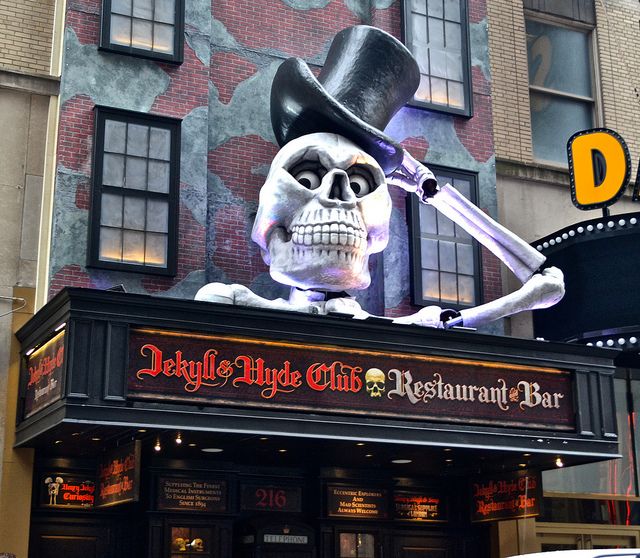 Horror doesn't get enough representation in the service industry (not a phrase I ever thought I would say, but here we are), so imagine my surprise when I stumbled upon a horror-themed bar while I was in Scotland one year. There are actually quite a few horror-themed bars in the world, you just have to know where to look. Here are few options to get you started!
This is the one bar on this list that I've actually been to, and boy is it a lot of fun! The interior is decked out in a ton of Franktenstein memorabilia and even has an "It's Alive!" setup with a hanging Frankenstein on a lab table. If you happen to be there on a Sunday, definitely check out their karaoke contest!
Who would have ever thought there would have been a Suspiria-themed bar in Japan? The bar uses the brilliant color palette from Dario Argento's classic to a pretty great effect. Just look at those stained glass windows!
This particular bas just so happens to be expanding this year! It also has events going on all the time, so definitely check out their calendar the next time you're in Portland. The owner seems like a pretty decent guy, too. You can read his story here.
"Zombies are attracted to brains and Minneapolis has a lot of good ones." These are the words that help explain Donny Dirk's Zombie Den's existence, and the bar serves as a safe haven from those pesky zombies! Also from the website:
Donny Dirk's is half cocktail lounge and half dive bar with fancier furniture. We are not a restaurant and our food options are always limited. We have seating for approximately 52 people. We are an intimate venue serving quality beer, fine spirits, housemade infusions, and cocktails made with fresh produce.
This is a nifty little dive bar if I ever saw one. It's definitely on my hit list!
There's actually another one of these in Gruyères, but the design of the bar in Chur looks just a bit more Alien-y. Just look at those seats! The bar basically doubles as a museum completely devoted to the artist"s work in Alien, and it's truly a thing of beauty.
I know I should be focused on the bar itself, which is modeled after a pub straight out of An American Werewolf in London, but those wing flavors sound absolutely amazing. Do you think they'll ship them to Texas?
Located on 7th Avenue in New York City, The Jekyll & Hyde Club warns that anything can happen within its walls. While you are dining, creatures and memorabilia come to life and interact with you, but the club informs all guests that something "unusual" happens every 10 minutes or so. What that unusual thin is, I'm not sure, but hopefully it's not the same thing every time!
Out of all of the places on this list, the Vampire Café is definitely the most gorgeous one. Just look at the detail put into the décor! Those private booths look pretty cozy too, don't they?
Have you been to any of these bars? If so, what did you think? If you haven't, which one sounds the best to you? Let us know in the comments below!