10 Great Horror Movies from the '90s You Maybe Haven't Seen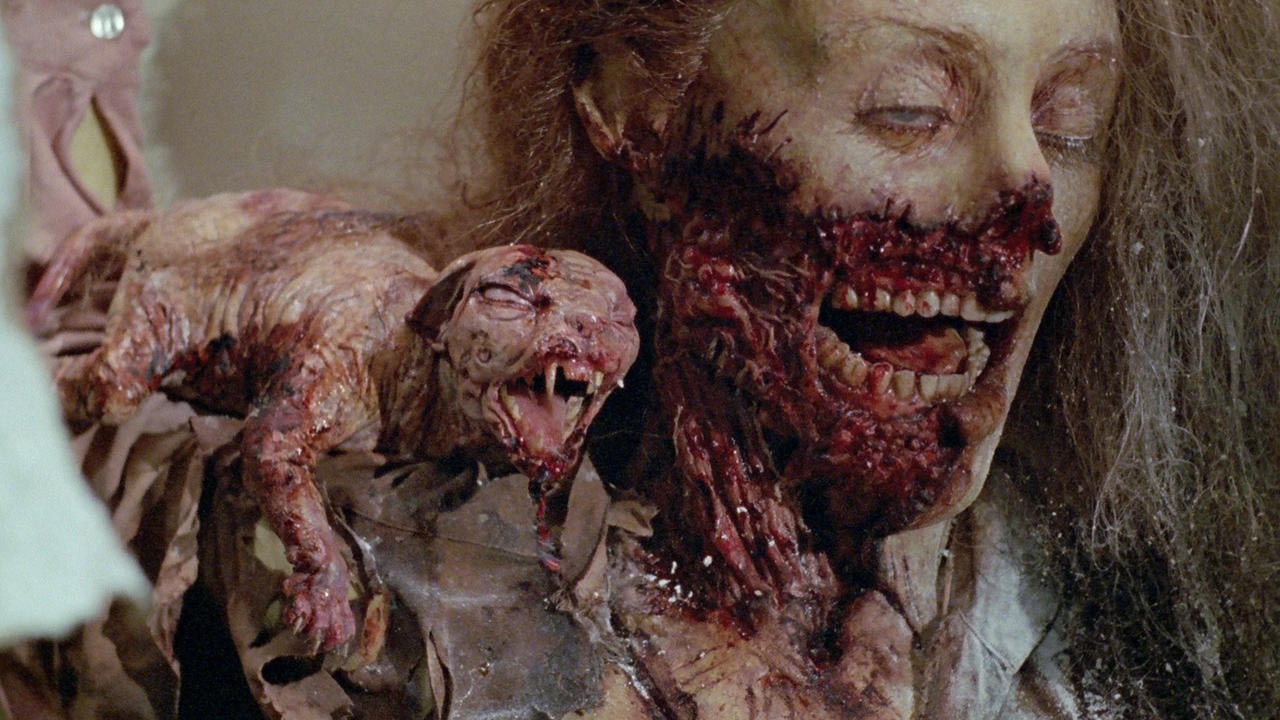 Following the '80s, a decade heavy in practical effects-driven horror and slashers, the '90s is often dismissed as a transitional period in the genre. It didn't help that theatrically released horror didn't have a very strong presence, though what was released in theaters was usually a high point (Candyman, Scream, The Blair Witch Project to name a few).
More recently, there's been a resurgence for films that didn't fare well at the box office but have since built up a cult following, like In the Mouth of Madness, Cemetery Man, or Nightbreed. But there's still a lot more great horror still waiting to be discovered…
Here are 10 overlooked '90s films you might not have seen.
---
Man Bites Dog
Though technically a crime dark comedy, the humor is pitch black with razor-sharp teeth. Shot in black and white, this Belgian film plays out mockumentary style as a film crew follows a rising serial killer in his daily routine. Ben (Benoit Poelvoorde) waxes poetic on philosophy, giving an air of sophistication, before ruthlessly dispatching various kids, bystanders, and elderly people in shocking acts of violence. The film crew remain complacent until Ben's murderous ways begin to affect them personally. It's grim, nihilistic, and brutal. Overlooked, this twisted satire is a precursor to films like Behind the Mask: The Rise of Leslie Vernon.
---
Hardware
The feature debut by the enigmatic writer/director Richard Stanley, Hardware is a great example of low budget sci-fi horror done right. Set mostly in the single location of an apartment in the middle of a post-apocalyptic slum, a scavenger brings his reclusive girlfriend, Jill, the head of a robot he bought from a junk dealer. It turns out that the head belonged to a military grade combat machine capable of self-repair. The robot reassembles itself using pieces of metal from Jill's apartment and proceeds to follow its programmed orders; genocide. Gritty cyberpunk horror with style, Hardware flips the bird at its minuscule budget.
---
The Pit and the Pendulum
Everyone is familiar with Stuart Gordon's From Beyond, Re-Animator, and Castle Freak, but this loose adaptation of the classic Edgar Allan Poe short story is one that doesn't get mentioned much. It's also more of a combination of many Poe stories in one. Set during the Spanish Inquisition, horror vet Lance Henriksen plays the sinister Torquemada, the one responsible for deciding whether someone is deemed a witch or not. Atmospheric and gothic, it's a more sedate horror story but features a lot of gruesome torture sequences. Frequent Gordon collaborator Jeffrey Combs does appear in a small role, but it's Henriksen that shines in his villainous turn as the sadistic Grand Inquisitor of Spain.
---
Two Evil Eyes
This collaboration between Dario Argento and George A. Romero, with gory effects by Tom Savini, quietly slipped into home video release in 1991 without much buzz. Bringing their own take on Edgar Allan Poe (a seeming trend in the early '90s), Romero adapted Poe's short story "The Facts in the Case of M. Valdemar," while Argento (loosely) took on "The Black Cat." Romero's tale is mixed, but the true star and reason to watch is Argento's mashup of Poe stories. In it, Harvey Keitel plays a creepy photographer slowly driven mad by a cat. The spiral into insanity with gory visuals is an absolute highlight.
---
Mister Frost
Another hidden entry of '90s horror made harder to find by being unavailable on physical media platforms, this supernatural thriller sees Jeff Goldblum in the titular role as a man arrested and placed in an asylum after committing multiple murders. After two years of silence, he finally speaks to Dr. Sarah Day (Kathy Baker), confessing to her that he's Lucifer himself and plans to convince her to murder him. Naturally, she doesn't believe him, but strange occurrences begin to happen around her. A slow burn cat and mouse game, this one favors atmosphere over overt, traditional scares. Jeff Goldblum's chilling performance is worth the price of admission alone.
---
Popcorn
This wacky horror comedy slasher lovingly pays homage to the B-movie with its entertaining setup. A group of college film students decide to raise funds by setting up an all-night horror movie marathon in an abandoned theater, complete with William Castle-like gimmicks themed toward each film they're showing. It makes for a perfect cover for the killer picking off the students one by one. The lead heroine is Jill Shoelen (The Stepfather), and horror vet Dee Wallace plays her mother. Though there are supernatural elements that are not quite fleshed out, the killer's modus operandi of assuming his victims' appearances add a level of fun.
---
The Resurrected
This direct-to-video adaptation of H.P. Lovecraft's The Case of Charles Dexter Ward is not only faithful but boasts a really fun final act with gore effects. Directed by Dan O'Bannon (The Return of the Living Dead), the plot follows a woman who hires a private investigator to find out what her husband is up to in his remote family-owned home after his behavior becomes increasingly strange. Chris Sarandon is fantastic here, playing two major roles. Though this starts out a bit slow, stick with it as the payoff is absolutely worth it. The Resurrected makes for a great hidden Halloween gem with its fall and October setting.
---
Necronomicon
A Brian Yuzna produced and partially directed horror anthology based on H.P. Lovecraft stories got a direct-to-video release in 1993 and has since slipped further into obscurity. The wraparound features an unrecognizable Jeffrey Combs as H.P. Lovecraft, reading the three stories straight from the pages of the Necronomicon in the cellar of a library. Both the segments and the wraparound are a great display of special effects by artists like Screaming Mad George and John Carl Buechler, and consultant work by Tom Savini. This anthology is still stuck on VHS, only getting a proper DVD release in Europe and Asian markets, where it fared much better upon release.
---
The Nameless
Almost a decade before Jaume Balaguero teamed up with Paco Plaza to terrify audiences with [Rec], he proved his uncanny ability to scare with this underseen thriller that he wrote and directed. It opens with the discovery of a mutilated child who had been missing. It's so mutilated that only a bracelet and a leg could be used to identify her. Five years later, her mother Claudia receives a phone call from someone claiming to be her dead daughter. This begins a twisted tale of Claudia trying to uncover who is actually behind the phone call. While Balaguero may not exactly stick his landing here, it's an atmospheric, haunting story and the director nails the foreboding sense of fear. The creepy set pieces and cinematography is also a major highlight.
---
Dark Waters
A surreal atmospheric horror film that feels like a throwback to the earlier works of Lucio Fulci and Mario Bava, this dreamlike story follows a woman who travels to an isolated island to find out why her father funded a monetary there before he died. Director Mariano Baino's first and only feature length film, Dark Waters doesn't always make much sense, but it's visually stunning and weird. Occult horror with a demonic presence, the setting alone also makes this feel akin to something H.P. Lovecraft would've created.