FYE Getting Exclusive Slipcase for Arrow's 'Killer Klowns from Outer Space' Blu-ray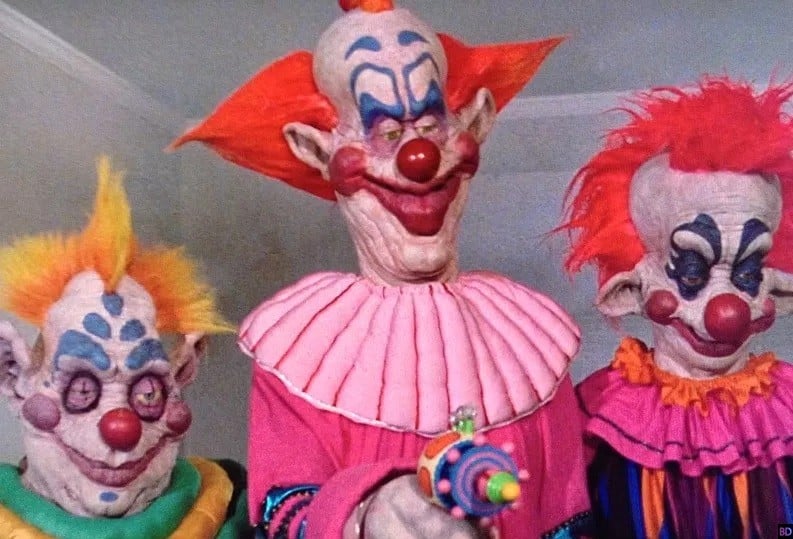 Thirty years after its original release, Arrow Video has restored the cult classic Killer Klowns from Outer Space (from a 4K scan of the original camera negative!) for an upcoming U.S. Blu-ray that's due out next week. It was originally set for release last month, you may remember, but will now be arriving this coming Tuesday, April 24.
We just wanted to give you the heads up that FYE will be getting an exclusive version of the Killer Klowns release next week, with a special slipcover only available through them. You can check out that slipcover art below, which may convince you to buy through FYE.
Special edition contents for the Arrow release include:
Brand new restoration from a 4K scan of the original camera negative
High Definition Blu-ray (1080p) presentation
Newly remastered stereo 2.0 and 5.1 DTS-HD MA audio options
Optional English subtitles for the deaf and hard of hearing
Archive audio commentary with the Chiodo Brothers
Let the Show Begin! Anatomy of a Killer Theme Song an all-new interview with the original members of the American punk band, The Dickies
The Chiodos Walk Among Us: Adventures in Super 8 Filmmaking – all-new documentary highlighting the making of the Chiodo Brothers childhood films, from the giant monster epics made in their basement to their experiments in college
New HD transfers of the complete collection of the Chiodo Brothers 8mm and Super 8 films, including Land of Terror, Free Inside, Beast from the Egg, and more!
Tales of Tobacco an interview with star Grant Cramer
Debbie's Big Night an interview with star Suzanne Snyder
Bringing Life to These Things a tour of Chiodo Bros. Productions
The Making of Killer Klowns archive production featurette
Visual Effects with Gene Warren Jr. archive interview with co-writer/producer Charles Chiodo and visual effects supervisor Gene Warren Jr.
Kreating Klowns archive interview with Charles Chiodo and creature fabricator Dwight Roberts
Komposing Klowns archive interview with composer John Massari
Klown Auditions
Deleted Scenes with filmmaker s audio commentary
Bloopers
Image Galleries
Original Theatrical Trailer
Reversible sleeve featuring original and newly commissioned artwork by Sara Deck
In Killer Klowns, "When Mike and his girlfriend Debbie warn the local police that a gang of homicidal alien-clowns have landed in the nearby area (in a spaceship shaped like a circus big-top, no less), the cops are naturally sceptical. Before long however, reports are coming in from other anxious residents detailing similar run-ins with the large-shoed assailants. There can no longer be any doubt the Killer Klowns from Outer Space are here, and they re out to turn the Earth s population into candy floss!"