'Garbage Pail Kids' Spoofs Metallica, Ghost, Nine Inch Nails, Rob Zombie, Ozzy and more!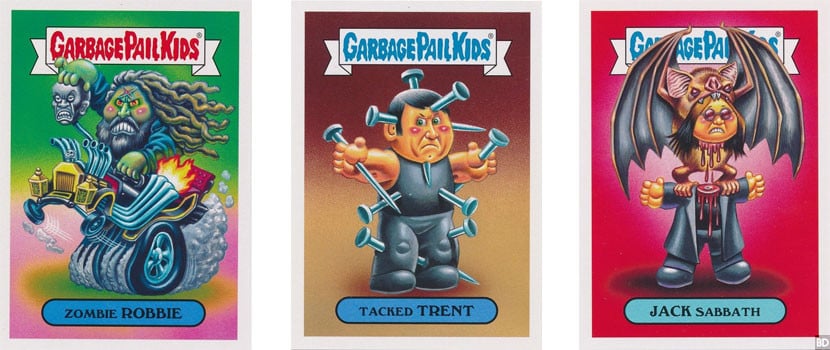 The latest line of Garbage Pail Kids cards are hardcore.
Topps has revealed the "Battle of The Bands" series, which sticks it to all sorts of genres from alternative to pop, classic and hard rock, as well as metal.
A total of 180 cards make up the 2017 Topps "Garbage Pail Kids: Battle of the Bands" checklist, explains Beckett who adds that this includes the traditional A/B name variations for 90 different gags, all with new art.
Each regular hobby pack comes with a Puke parallel. Parallels exclusive to the premium Hobby Collector packs are Bruised (one per pack), Spit (/99) and Bloody Nose (/75). Fool's Gold (/50) are in both pack types. Printing Plates are also available.
Some of the highlights include spoofs on Metallica, Ghost, Nine Inch Nails, Rob Zombie, and Ozzy. Here are the hard rock and metal checklists:
HARD ROCK
1a Lead Zep
2a Bashed Buck
3a Asphyxiated Alice
4a Motor Ed
5a Aching Angus
6a Swallowing Steven
7a Dueling David
8a Burned Brett
9a Joyless Jon
1b Ridiculous Icarus
2b Demolished Dharma
3b Choking Cooper
4b Lumpy Lemmy
5b Ballbreak Earl
6b Big Trap Tyler
7b Sammy Hater
8b Mutilated Michaels
9b Bad Name Bon
METAL
1a Oozing Ozzy
2a Met Al
3a Mega Seth
4a Nine Inch Neil
5a Zombie Robbie
6a Marilyn Oh No
7a I. Ron Maiden
8a Andy Thrax
9a Phantom Forge
10a Masto Don
1b Jack Sabbath
2b Aster of Puppets
3b Rattle Ed
4b Tacked Trent
5b Hot Rob
6b "Handsome" Manson
7b Iron Irene
8b Hurt Ian
9b Ghostly Goore
10b Beassty Brent
The full checklist can be found over at Beckett.