[Fantasia '12 Interview] Director Jason Banker On Drug Use And Paranormal Experiences In 'Toad Road'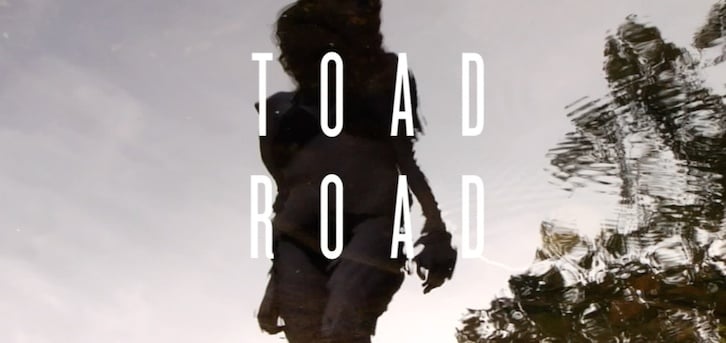 Jason Banker's debut feature film, Toad Road, had its world premiere this past Friday at Fantasia Film Festival. Banker has quite the impressive cinematographer portfolio, working on many documentaries such as My Name Is Faith, and All Tomorrow's Parties, but with Toad Road, Banker delivers a realistic portrayal of a drug induced paranormal world. The film explores an urban legend about The Seven Gates Of Hell, and it follows a group of misled party-goers who venture a bit too far into the rabbit hole.
Jason Banker took the time to chat with me about his first feature film, his past relationship with drug use, urban legends, and a lot more.
BD: Toad Road explores an urban legend from York, PA. Can you tell us about the legend and why you wanted to make a film about it?
Banker: Toad Road is a small wooded road that is said to contain seven gates that lead to hell. As you pass through each gate your experiences and the world around you change. I really wanted to explore the aimless nature of youth culture with its obvious and sometimes hidden dangers and this urban legend lent itself to that story.
BD: Did you ever walk take a walk through "The Seven Gates Of Hell" yourself?
Banker: I haven't, but in my life I've known a number of people who have done it.
BD: Psychedelic drugs play a huge role throughout the film, as well as the culture that goes along with drug use. How does drug use relate to hell, or the paranormal for you? How do you approach the subject without making it seem like an anti-drug movie?
Banker: Psychedelic drug use blurs the lines between what's real and what's going on inside your own head. It seems to be the most direct parallel to having a paranormal experience. As a filmmaker, I felt it was important to objectively portray all sides and let the audience make their own discoveries.


BD: In another interview of yours, you mentioned that you have experience with friend groups like the one in Toad Road. Was it difficult to revisit that part of your life and to explore it on film?
Banker: It wasn't difficult because I had enough distance and other life experiences to see it objectively. I wanted to understand and explore it. This is such a part of our culture that now I felt like it was fertile creative ground and with a new perspective, I could understand it better.
BD: The non-linear narrative of Toad Road creates a slow burning sense of dread rather than constant shocking images to bring the horror to the audience. As a director how do you go about creating such a mood? Did a lot of it come down to the postproduction?
Banker: With my background in documentary filmmaking, the approach was to shoot a wealth of footage so that when Jorge Torres-Torres, my filmmaking collaborator and I began editing we found a number of powerful tonal shifts that ultimately elevated the mood.
BD: You've got a pretty impressive DP portfolio under your belt, mostly shooting documentaries. How did you find the transition into fiction storytelling and directing?
Banker: I love shooting and collaborating with other filmmakers, but it was exciting to finally have complete control of the filmmaking process on my first narrative feature. I felt I had a story I really needed to tell and this was that story.


BD: A lot of the scenes and dialogue seem very natural, almost eerily real. Were a lot of the scenes improvised? How much creative freedom did the actors have?
Banker: I chose not to go the traditional actor route and did my casting off of MySpace to find a cast with real relationships to aid the authenticity on screen and to allow for some improvisation.
BD: One of my favorite parts of the movie was the pervasive and dynamic soundtrack. There's some really creepy music combined with heavy droning throughout. I sense a bit of a David Lynch influence. Can you tell us a little bit about your vision for the sound design?
Banker: Lynch is a huge influence for me, and I wanted to create the full sensory experience of being inside these drug moments through the use of sound and editing.
BD: What projects are coming up next for you?
Banker: I just finished a documentary on squatter culture in the east village, and I'm currently exploring a number of story concepts for my next narrative feature.
BD: Thanks for chatting with us, and I hope you enjoy your time at Fantasia.