[Interview] Christopher Mintz-Plasse On Playing The School Bully In 'ParaNorman', Getting Ready For 'Kick Ass 2'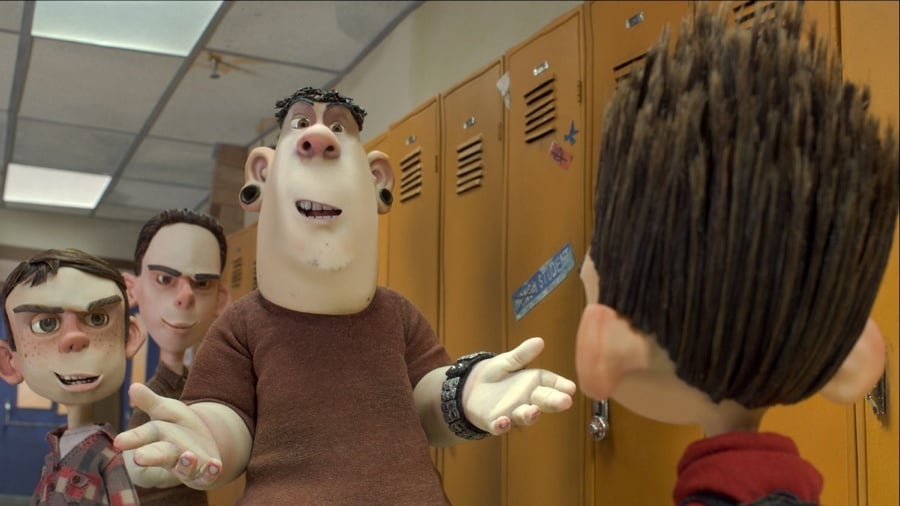 Focus Features animated horror comedy ParaNorman hits theaters at the end of the week and I recently hopped on the phone with Christopher Mintz-Plasse (who voices the character of "Alvin" in the film) to talk about playing the school bully as well as the impending Kick Ass 2
The voice cast also includes Academy Award nominee Casey Affleck (The Killer Inside Me ), Tempestt Bledsoe ("The Cosby Show"), Jeff Garlin (Toy Story 3), John Goodman (Red State, Matinee, Monsters, Inc.), Bernard Hill (Titanic), Academy Award nominee Anna Kendrick (Up in the Air), Leslie Mann (Rio), Kodi Smit-McPhee (Let Me In) and Tony and Emmy Award winner Elaine Stritch ("30 Rock"), Tucker Albrizzi (Good Luck Charlie), Alex Borstein ("Family Guy"), Jodelle Ferland (Case 39, Silent Hill, The Twilight Saga: Eclipse).
ParaNorman hits theaters this Friday, August 17th. Head inside for the interview!

In ParaNorman you play against type a little bit. You play the school bully. Can you talk a little bit about how it differs from your work in the past?
Yeah! It's one of the first times I've gotten to play a role like this, which is really cool. They came to me with the offer, so I didn't have to go in and audition, which was surprising. So I went in, created this character from scratch, and they loved it.
With voiceover you do it long before the film is animated, right?
Correct. I recorded my parts a year and a half ago, if not more.
How different was the final product from what you had in your head while recording it?
I don't really have an image in my head necessarily because I know how long it's going to take for the movie to come out. But I saw some artwork of my character and the zombies, so I kind of just went in and listened to the directors. We improvised a bit and did a couple of scenes and had fun.
What sort of guidance did Chris and Sam [the directors] give you?
Well Chris has wanted to make this movie for the past 10 years, so when he actually wrote the script he was passionate about it but also wanted to bring in some actors who could improvise a bit and had the talent to bring the characters to life. I brought in the character, I said the lines my way and I brought the character to life and the loved it.
The film has a strong message about being tolerant, but the times we live in are increasingly intolerant. What kind of impact would you hope this movie has socially?
I love that there's two aspects to this. There's me bullying Norman, and then there's the townspeople bullying the zombies which I think is a nice twist. But I hope that young kids walk away understanding the tagline, "weird wins." Not being normal is okay and in the end, everything is going to be fine.
Was there anything in the film you thought might be too hardcore? Anything you thought might keep it from getting a PG?
There's definitely some darkness in the 3rd act. I don't want to ruin anything, but there are some pretty dark things. We screened footage at comic-con and a 5 year old girl came up to the mic and said that the zombies were way to scary for her. The 3rd act is pretty heavy, but it's my favorite part of the movie.
Speaking of things that definitely won't be PG, Kick Ass 2 is happening.
Yes. We're getting started soon.
I has a huge fan of the original, but this is something a lot of people didn't think was going to happen. Partly because Matthew Vaughn can't come back.
Yeah, I was in the same boat as you. I didn't know if it was going to happen, I've wanted it to happen for so long. I'm a little sad that Matthew isn't coming back to direct, but he is producing. He'll be there. And he helped write the script – and it's a great script – so he's very much involved. But we start shooting in less than a month. I fly out in less than a week for wardrobe and rehearsals.