[Review] Leigh Janiak Expertly Explores Friction In 'Honeymoon'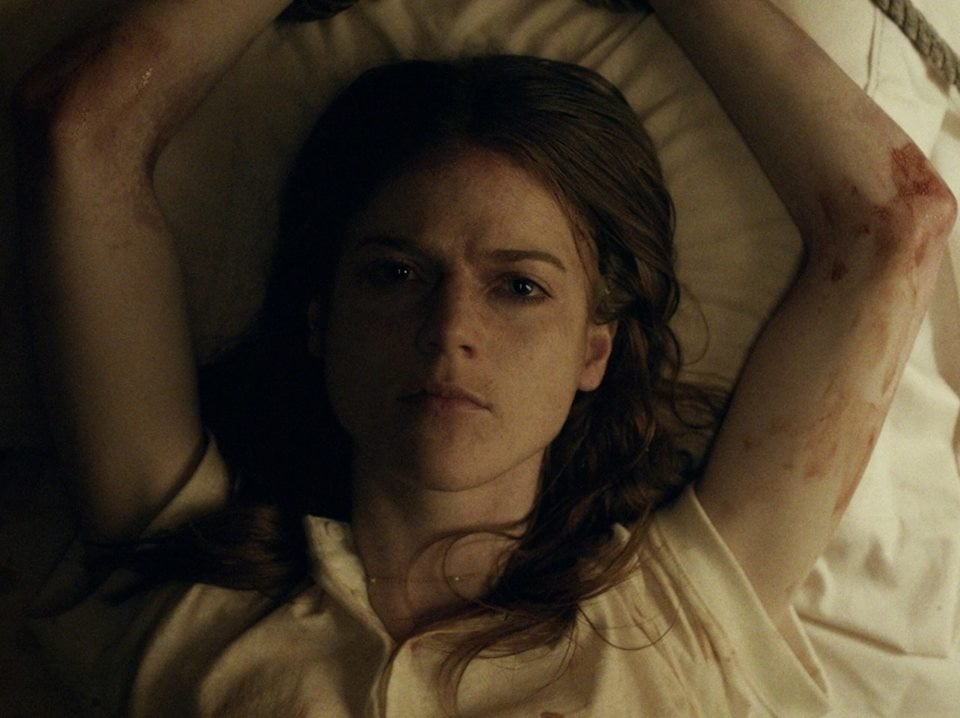 I'll be honest when I say that prior to the Blu-Ray coming in the mail, I had never given much thought to Honeymoon. All I really knew was that Rose Leslie was cast by director Leigh Janiak after seeing her on Game Of Thrones…which admittedly, I haven't watched (hey, I don't have cable or Netflix, what do you want from me?). Anyways, Honeymoon is Janiak's first kick at the directorial can, and given the current situation in Hollywood, it's always great to see female directors coming forward and showing their stuff. So, what's all the fuss about?
Bea (Rose Leslie) and Paul (Harry Treadaway) are newlyweds, and for their honeymoon, decide to spend several days at Bea's childhood vacation home. A few days into the trip, things begin getting tense. After an unexpected run-in with Bea's ex at a diner, Paul wakes to an empty bed. Paul's search leads him to find Bea outside in the woods naked, and unable to recall how she got there. Bea also has weird marks on her inner thighs, which she writes off as bug bites. Paul is skeptical, but goes on with their honeymoon. However, things start to get more tense as Bea's behavior becomes increasingly irrational.
The thing that I loved about this film, even after the credits rolled, was the fact that Janiak had perfectly captured what it's like for some couples considering long-term relationships and marriage. The doubt that creeps into you mind about that other person, and if they're really who they say they are? Is this ultimately the right choice? It's all here, and not to make it sound like it's all gloomy, but you can't show just the positive aspects or all negative aspects, as that's not a genuine relationship. Janiak's writing covers both the good and the bad, which makes the relationship between Bea and Paul feel authentic. It also makes the friction that develops when Bea unexpectedly meets up with her ex (and mixes in English and French while talking to him, alienating the English-only Paul), that much more believable. Great stuff.
Of course, the other half in making this work lies in the actors themselves. And both Harry Treadaway and Rose Leslie nail it. It's really surprising the chemistry between these two. You'd swear that they were a couple in real life. Not only do these two pull off an almost cloying display of affection for one another at the beginning of the film that, let's be honest, there are couples who are like that, but they also pull off the increasing friction that comes with a relationship. You can feel the desperation in Paul as he wants to believe Bea, but at the same time is faced with evidence to the contrary that she's hiding something. Likewise, you feel Bea wants to keep things going in a positive direction, while simultaneously knowing that she can't keep holding back from Paul.
If there were any negatives, I'd have to say that the ending, while certainly a twist, was kind of "out there" for me. Then again, being involved with such excellent characters, you have a hope that things resolve themselves in a positive manner. They still do, in a way. Just not in what you'd expect. As you could probably tell, I'm not a fan of couples who are all over themselves in love. The "cloying" that I mentioned is really only in the first part of the film, and while I was able to tolerate it, my 'single mind' started wishing for a certain machete-wielding masked man to pop up and fix things if it continued any further. Wrong movie, but you get the idea.
It's certainly a rarity for a writer/director to nail it on their first try, but Leigh Janiak has done it with Honeymoon. The story and script are terrific in getting through to the audience the nature of a long-term relationship, and the difficulties some couples face, even when a relationship's difficulties (like this one) involve something not so typical. The performances by Leslie and Treadaway are very strong, and completely sell the idea of them being a couple going through increasingly difficult times. And while the ending was a bit of a downer for me, it did have me thinking, which is what a good film should have you doing once the credits rolled around.
Video/Audio:
Presented in 1080p AVC-encoded 1.85:1 widescreen, the transfer looks tasty. The overall picture is sharp, with a consistent colour palette that's been purposely muted. Black levels are strong and appropriately dark. Picture detail is strong, overall. An excellent transfer.
Like the video transfer, the 5.1 DTS-HD Master Audio track is great. The wonderful score by Heather McIntosh and the film's dialogue are nicely balanced, with the dialogue being clear and unobscured. Ambient effects like crickets and wind add depth and immersion to the mix, while action scenes add a nice punch on the lower end of things.
Extras:
Magnolia disappoints again with some lackluster extras. You'd think these companies would spring for something worthwhile to compliment a film they fought for to get the distribution rights.
Starting things off is an interview with actors Rose Leslie and Harry Treadaway. The duo describe their initial thoughts on the script, how they prepared for their roles as newlyweds and how they worked together to create the on-screen relationship.
Following that is an interview with Director Leigh Janiak. Leigh talks about her writing process, the films that inspired her and co-writer Phil Graziadei (Gareth Edwards' Monsters, for one) and what went into the casting and production.
"The Worm Behind the Scenes" is raw footage of Rose Leslie trying to bait a fishing hook. It's what you'd expect. "Canoe Behind the Scenes" looks at the troubles that comes with doing your own stunts (and filming) on the water.
AXS TV: A Look at 'Honeymoon' is another fluff piece where the film's trailer is intercut with interviews.
Rounding things up are three trailers for the film.