'Kong: Skull Island' POP! Vinyl Toy is Massive and Awesome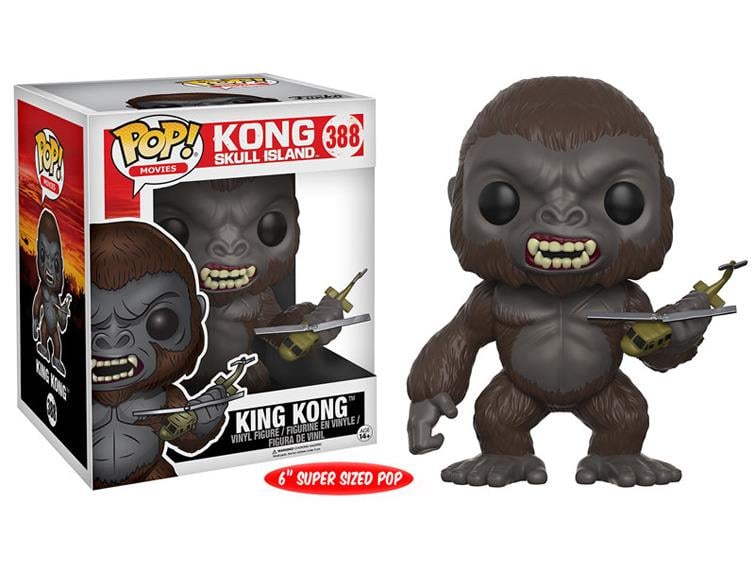 What you're looking at is some monster from a bygone era.
One of the cool things about the upcoming Kong: Skull Island, headed to theaters on March 10th, 2017, is that it's going to feature the biggest incarnation of King Kong that ever lived. According to director Jordan Vogt-Roberts, his Kong measures a massive 100-feet tall, and the reason for the upgrade in size is so the beast will be able to do battle with Godzilla in 2020.
But let's focus on the here and now. In advance of Kong: Skull Island arriving on the big screen, Funko has just announced and unveiled their very first POP! vinyl figure of the iconic movie monster. True to the new design, the King Kong toy measures a massive 6″ tall, making it quite a bit bigger than standard POP! toys. To show off his size, Kong holds a tiny helicopter in his hands. Actually, it's a huge, full-size helicopter, it's just that Kong makes it look like a toy.
Vogt-Roberts recently explained the new Kong design, depicted by the toy:
If anything, our Kong is meant to be a throwback to the '33 version. [Kong] was a movie monster, so we worked really hard to take some of the elements of the '33 version, some of those exaggerated features, some of those cartoonish and iconic qualities, and then make them their own…We created something that to some degree served as a throwback to the inspiration for what started all of this, but then also [had] it be a fully unique and different creature that — I would like to think — is fully contained and identifiable as the 2017 version of King Kong. I think there are very modern elements to him, yet hopefully he feels very timeless at the same time.
Look for the Kong: Skull Island POP! vinyl toy in January 2017.