Star Robert Brian Wilson Reflects On 'Silent Night, Deadly Night' Over 30 Years Later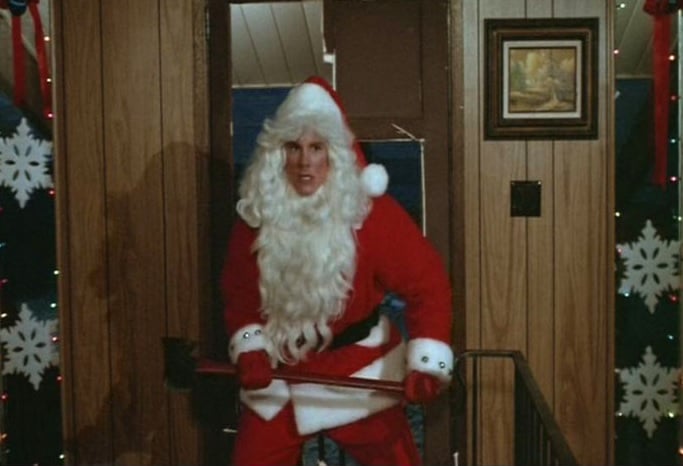 PUNISH!
Easily the most iconic killer Santa in the history of the horror genre was Billy in Silent Night, Deadly Night, portrayed by young and inexperienced actor Robert Brian Wilson. For many years, fans had tried in vain to get in contact with Wilson or at least learn a bit about his current whereabouts, and there was a good reason he hadn't been found. He didn't want to be found.
In the wake of Silent Night, Deadly Night's release, Robert Brian Wilson got cold feet about the whole thing and essentially sided with the angry mothers who insisted that the 1984 slasher film was an abomination that never should have been. He wasn't proud of his decision to star in the movie, and it was to be his only major role before quitting the business in the '90s.
But now, over 30 years after Silent Night, Deadly Night caused controversy at the box office, Wilson has finally embraced his most memorable role as an actor. As of last year, he's begun to make convention appearances (sometimes even posing for photos in a Santa suit!) and take part in interviews, and he credits the passion of horror fans for changing his outlook on the film.
Recently speaking with the show Without Your Head, Wilson reflected:
In the beginning it was… just because of the backlash, if you will… the PTA and the mothers came out and said, 'How could you do this?' And so, with no other side of the fence to look at, I was a little bit like, 'Okay well, I'll ride the wave with what these mothers are saying.' And so I said, 'Yea I agree. This shouldn't have been put out in this way.' But in retrospect, too bad for them. They were just behind the times.
Wilson explains why he now has a totally different outlook:
These folks that I've met are truly such genuine fans that I couldn't escape that. These people were genuine and for that, I see the film in an entirely different way. And I appreciate it completely. And for whatever my personal thoughts were on the film at the moment, because of my performance or this or that… really insignificant at this point in time. When I look at it now, I find the humor in it. And so I have a whole new appreciation for the film than when it first came out. I'm pleased as punch. I can't say anything bad about the film at this point in time. I'm pleased there's such a fan following. I'm pleased it came out as it did.
So what has Robert Brian Wilson been up to in recent years? He's a happily married father who's become very successful in the trade show business, and he's recently begun dabbling in acting again. Trained and more experienced, Wilson appeared in this year's made-for-TV movies The Wrong Roommate and A Husband for Christmas, allowing him to hone his acting craft.
He admits he's still not happy with his performance in SNDN, but he's made peace with that.
"I wish I could've provided a better performance," Wilson told Without Your Head. "Lo and behold, 30 years later, no one really cares."