How 'Curse of Chucky' Completely Restored My Faith in the Franchise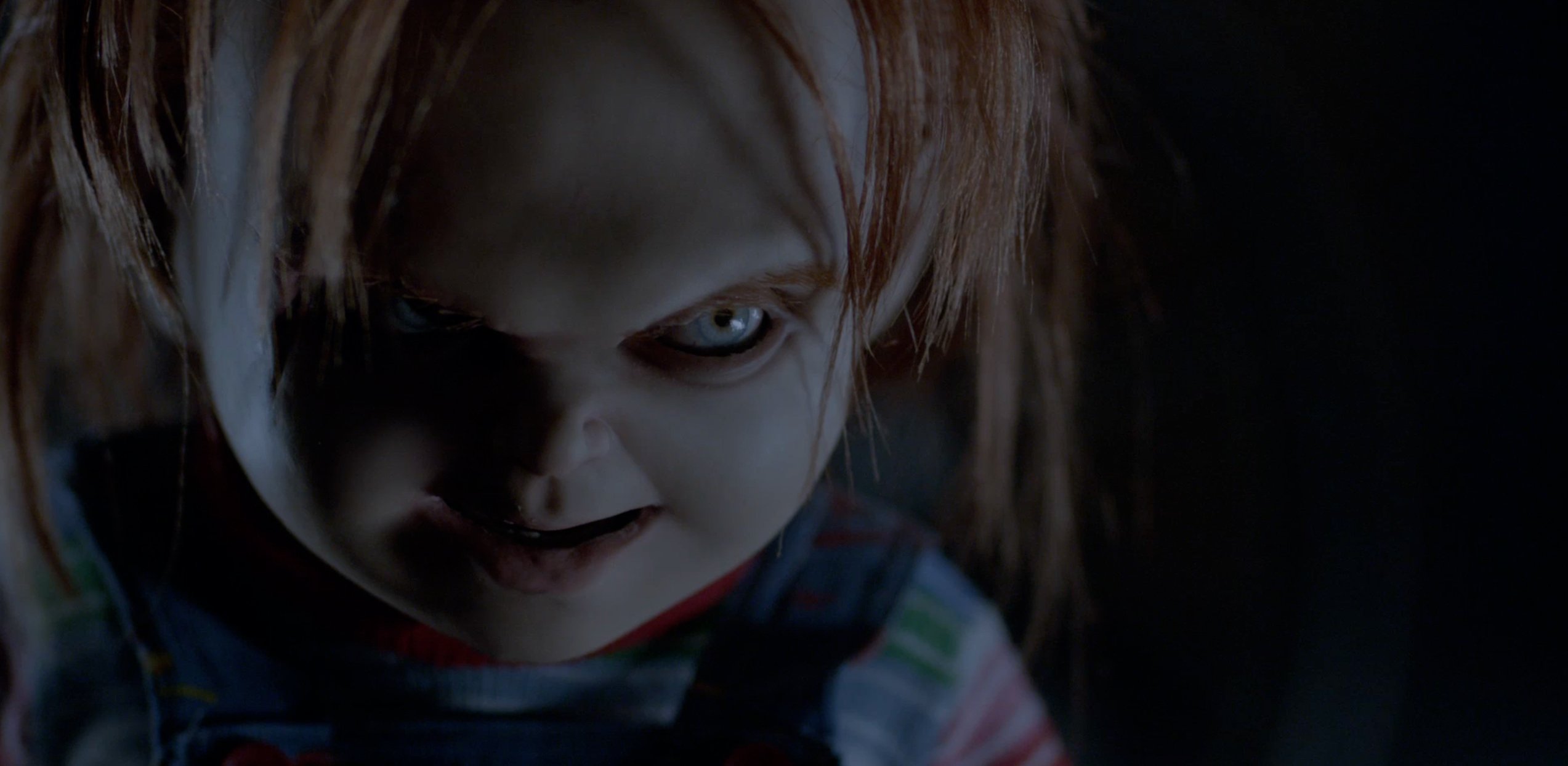 I'm incredibly excited about Cult of Chucky. And that's thanks to Curse of Chucky.
Like Phantasm, Child's Play is one of the only long-running movie franchises that has been overseen by its original creator throughout its entire run. Don Mancini wrote the original Child's Play in 1988 and he went on to write every subsequent film in the series. He also directed Seed of Chucky, released in 2004, and returned to the director's chair for 2013's Curse of Chucky.
Mancini wrote and is currently directing this year's Cult of Chucky.
Of course, the franchise has evolved quite a bit since its debut in the '80s. In 1998, the series took a turn for the comedic and self-referential with Bride of Chucky, and those over-the-top hijinks continued with the even more outlandish Seed of Chucky – a film that saw Chucky and Tiffany give birth to a baby boy… or was it a girl? It would be unfair to write off either film, as I'm well aware that some fans consider Bride of Chucky to be one of the franchise's best, but personally speaking, I could do without them. They're not without their laughs, and there's definitely fun to be had in each of them, but the one-two punch of Bride and Seed mostly killed my interest in ever seeing another Chucky movie again. And then, much to my surprise, Curse of Chucky came along.
Originally billed as a full-on remake, Curse of Chucky turned out to be a direct sequel to, well, every previous film in the surprisingly coherent franchise. But one thing the direct-to-video sequel did remake, so to speak, was the tone of the early films in the series; Mancini himself has described it as a "tonal reboot." Mostly doing away with the comedy on display in both Bride and Seed, Curse returned the pint-sized killer doll to his scary stalk 'n slash roots, and if you're asking me, Mancini delivered exactly what the franchise needed at that point in time. In the wake of Chucky going to Hollywood, killing Britney Spears, masturbating to Fangoria Magazine, and having an androgynous child with a Scottish accent, the low-budget, back-to-basics approach of Curse of Chucky was a huge breath of fresh air. A fusion of old fashioned suspense and gory slasher thrills, Curse of Chucky is unquestionably one of the best horror franchise "reboots" of all time.
The most brilliant thing about Curse of Chucky, however, is that's it not actually a reboot at all; tonally, yes, but definitely not in the storytelling department. Made with the love that could only come from the guy who created the whole damn thing, Curse of Chucky impressively managed to tie together the entire series, despite initially seeming like a remake. For much of the film, Chucky looks as he did in the first three installments, suggesting that Curse of Chucky is going to ignore the events of both Bride and Seed. But in the final act, it's revealed that Chucky has been wearing "makeup" to disguise the gnarly scars we had become accustomed to seeing. Jennifer Tilly even pops up for an appearance as Tiffany, as does Alex Vincent as a grownup Andy Barclay.
And then there's the new mythology that Curse of Chucky brings to the table, which comes courtesy of flashbacks that effectively de-age Brad Dourif and provide us with new insights into the life of Charles Lee Ray (the serial killer whose soul inhabits Chucky). We learn that paraplegic main character Nica (played by Brad's own daughter, Fiona) has been wheelchair bound since birth because of Charles Lee Ray, who stabbed her mother in the stomach prior to her birth. Curse even returns us to the opening scene of the original Child's Play, arming us with the new knowledge that Charles Lee Ray was running from police after the stabbing of Nica's mother. It was a whole new layer to an old story, and in a world where all of our favorite horror franchises get remade rather than directly continued, it was pretty damn cool to see Mancini going back to the beginning and building upon what we had already seen and what we thought we knew. Similar to what Rogue One did for A New Hope, Curse of Chucky made it impossible to ever watch Child's Play again without thinking of that new context, which is a real cool treat for longtime fans.
Curse of Chucky is so good that it makes you wish every horror franchise could be brought back to life with the same passion and genuine care for the characters and mythology. It also makes you wonder if maybe the low-budget, direct-to-video approach isn't such a bad idea for other villains like Jason, Freddy, and Michael. Sometimes, giving the fans what they want to see is the best way to go with beloved franchises like Child's Play, and with Curse of Chucky, I can honestly say that Don Mancini gave me everything I wanted to see. Father knows best, as they say.
What's next? Chucky, Andy, Tiffany, and badass new heroine Nica will all come together in Cult of Chucky, filming now and hopefully being released sometime later this year!