Here's the Terrifying 'IT' Trailer in 50 Hi-Res Images!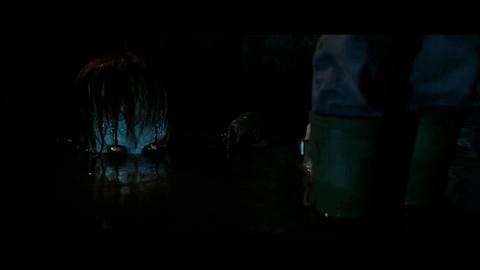 You've probably watched it 100 times by now, but let's take a closer look.
So this afternoon was pretty awesome. As promised, the official teaser trailer for Andy Muschietti's IT, the first of two adaptations of Stephen King's iconic novel, was finally unveiled, and it didn't take long for Pennywise to pretty much break the whole damn internet. This was one of those rare occasions where horror fans were in almost universal agreement. The consensus?
HOLY. SHIT.
Running just over two minutes long, the trailer begins just as the 1990 miniseries adaptation did: Georgie is taking his paper boat for a ride down the flooded streets of Derry when he comes across the scariest clown in the history of scary clowns: Pennywise. From there, the trailer introduces the rest of the kids and immerses us in the atmosphere of Derry, a troubled town plagued by a much higher than average rate of disappearing children. Pennywise is hungry.
Our young heroes, which include "Stranger Things" star Finn Wolfhard as Richie Tozier, seem to be the only ones who know what's going on; they discover a sewer system underneath Derry, and they believe that the town's menace lives down there. And that's when they incur the wrath of Pennywise, whose brief appearances in the trailer are nothing short of bone chilling.
We're also shown several iconic images and moments from the novel, including a young Beverly Marsh's bloody sink incident, our first look at the spooky house on Neibolt street, and a new take on the scrapbook scene, where Pennywise comes to life out of what initially appears to be a still image. Andy Muschietti, as Mama proved, sure knows how to make a scene truly scary.
I realize this is going to come off as hyperbole, but the IT trailer is honestly one of the scariest horror trailers I have ever seen. Bill Skarsgard looks incredibly creepy as the clown that Tim Curry made famous; dare I say, his Pennywise seems destined to be the scariest incarnation of the character we've seen to date. The final shots from the trailer, well, they're pure nightmare fuel.
What did you miss in the trailer? Did you spot, for example, the sign that indicates Patrick Hockstetter has gone missing? Check out 50 hi-res images we plucked from the trailer below!
In theaters September 8, 2017, the film is set "in a small town in Maine, where seven children known as The Losers' Club come face to face with life problems, bullies, and a monster that takes the shape of a clown called Pennywise."
Bill Skarsgard stars as Pennywise, the sewer-dwelling monster.
Jaeden Lieberher, Finn Wolfhard, Nicholas Hamilton, Jack Dylan Grazer, Wyatt Oleff, Chosen Jacobs, and Jeremy Ray Taylor are the modern Losers' Club.
Creature performer Javier Botet will play The Leper, and Owen Teague plays Patrick Hocksetter, a bully who torment the Losers' Club.
Dan Lin, Roy Lee, Seth Grahame-Smith, David Katzenberg, and Barbara Muschietti produce.