Artist Replaced 'Jurassic Park' Dinos With "Dinosaurs" from '90s Series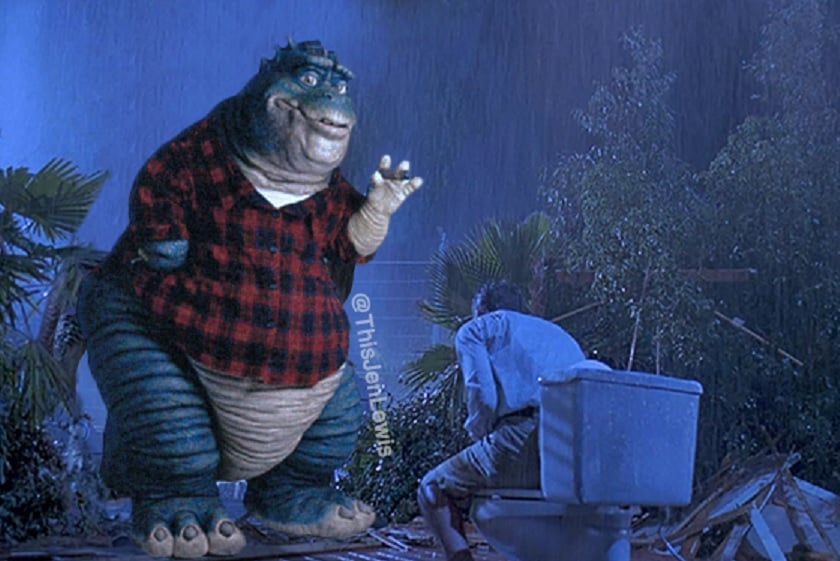 The internet is a magical, wonderful place.
Dinosaurs may not have all that much of a presence in today's entertainment, but goddamn were the '90s a good time to be a fan of those prehistoric monsters. Of course, the June 1993 release of Steven Spielberg's Jurassic Park paved the way for a full-on dino explosion, but it was beat to the punch by another beloved slice of dino-tainment.
In April 1991, the TV series "Dinosaurs" premiered on ABC, where it ran for 4 seasons. The sitcom, a staple of my own childhood, centered on the Sinclairs, a family of anthropomorphic dinosaurs that were played by puppets: father Earl, mother Fran, grandma Ethyl, and children Robbie, Charlene and of course, Baby Sinclair.
I had a Baby Sinclair doll growing up. It was everything to me.
But enough digressing.
Artist Jen Lewis (@thisjenlewis) just mashed together '90s dino properties Jurassic Park and "Dinosaurs," replacing the dinosaurs in the Spielberg film with the dinosaurs from the ABC series. We love her wacky handiwork so much that we just had to share it.
Enjoy. And be sure to follow Jen on Twitter!
*Clears throat as if to announce something extremely important*
"Jurassic Park" but the dinosaurs are from the '90s TV show "Dinosaurs" pic.twitter.com/PMhfbuUlbX

— Jen Lewis (@thisjenlewis) June 28, 2017
Thank you for encouraging my new hobby. pic.twitter.com/QnAQU4KZvz

— Jen Lewis (@thisjenlewis) June 28, 2017