10 Fun Facts About the 'Critters' Franchise You May Not Have Known!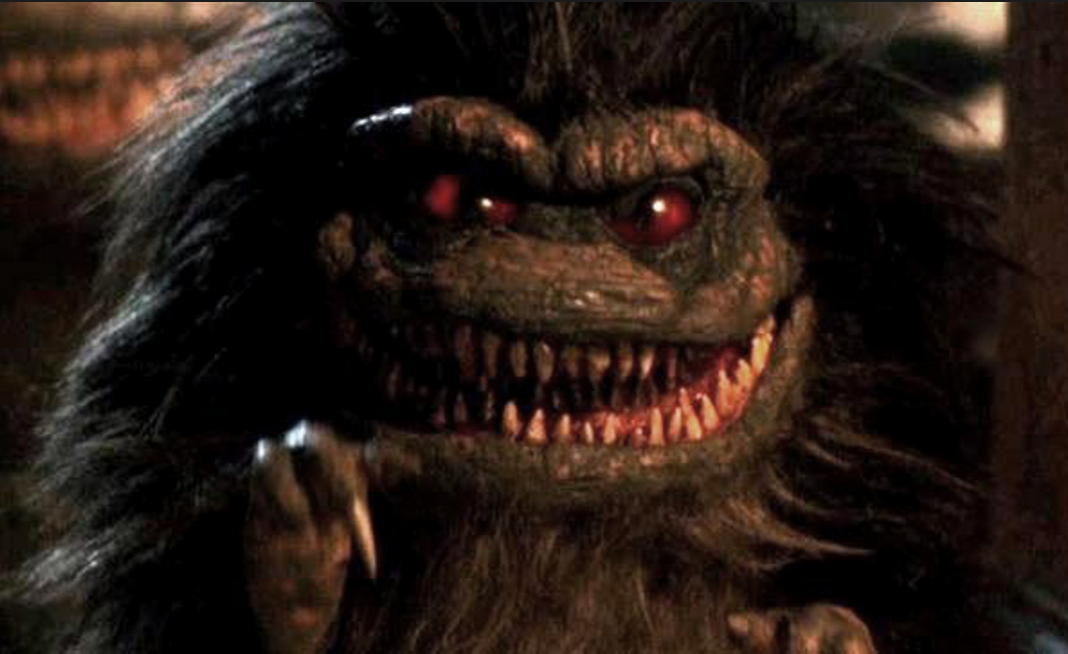 Last week New Line Cinema's Gremlins ripoff Critters turned 30, and it got me reminiscing about the kooky franchise. After breaking into theaters in 1986, the film spawned one more theatrically released sequels and two direct-to-video sequels The last Critters film was released in 1992, and that's a real shame, because the world could always use another Critters film. I thought we'd inform you about some facts you may not know about the film franchise (or maybe you do know them already, who knows?) to celebrate its 30th anniversary.*
*Don't worry, "Leonardo Dicaprio's film debut was in Critters 3" is not one of them. I assume you know that one already.
1. Voice actor Corey Burton developed the language of the Krites by using a combination of French and Japanese.
Corey Burton has done a lot of voice work in his decades as a voice actor. Not only has he acted in Disney films like Aladdin and The Hunchback of Nortre Dame, but he also created the language and originated the vocals for the Krites in Critters and Critters 2: The Main Course! He combined elements of Japanese and French to get the little guys talking. You can hear what he has to say about coming up with the language right here (don't worry, I cued up to the part where he talks about Critters). It's actually quite fascinating!
2. The first film knew how similar it was to other films, and  references several monster movies that were popular at the time, including Gremlins, Ghoulies and Ghostbusters.
Critters was fully aware that it had come after some pretty popular monster movies at the time, so rather than hide behind that fact, it embraced it! When the characters lift the lid of the toilet to see if a Krite is in there, that's a nod to Ghoulies and the fact that they come out of toilets when summoned. Also, the logo on the back of the Grover's Bend bowling shirts being a direct homage to Ghostbusters (you can catch a brief glimpse of the logo, which features a bowling pin behind the red sign right here). And of course, who could forget Critters' not-so-subtle nod to E.T. the Extra-Terrestrial?
3. The script was actually written before Gremlins came out, and had to undergo extensive rewrites to reduce the similarities present between the films
You know how I called Critters a Gremlins ripoff? Turns out, it wasn't! Stephen Herek, the director of the first film, maintains that co-screenwriter Domonic Muir wrote the script for Critters long before Gremlins went into production. It just took the success of Gremlins to get New Line Cinema to make the damn thing.
4. Sugar apples were use to make the "Easter Eggs' in Critters 2: The Main Course.
Did any of you know that this fruit existed? If you live outside of the States you probably did, but I'm quite curious to try it. It would be difficult not to think that you were about to bite into a Krite egg though!
5. Critters 2 was the screenwriting debut of David Twohy.
Twohy, as you may know, would go on to direct films like Pitch Black and (the extremely underrated) 2009 thriller A Perfect Getaway. Before those films, he wrote the screenplays for Waterworld and G.I. Jane. And before those films, he got his start writing the screenplay for Critters 2: The Main Course (with Mick Garris, no less). We've all got to start somewhere, right?
6. Lin Shaye makes a cameo appearance in the film.
As many of you may already know, Lin Shaye is the sister of executive producer Robert Shaye, the founder of New Line Cinema. Robert gave his sister many bit parts in movies (including A Nightmare on Elm Street), but one of the more cartoonish ones was Sal in Critters 2. She's a hoot!
7. Cary Elwes passed on the role of Josh, which eventually went to Leonardo Dicaprio.
This one is just plain weird, as Elwes would have been 28 when Critters 3 was filming (compared to the 17 that Dicaprio was). Still, Elwes admits to this on the DVD commentary for Saw. Maybe Josh was originally meant to be an older character, but it's not surprising that Elwes, who was already famous from The Princess Bride and fresh off of higher profile films like Glory, passed on the part.
I mean, imagine this:
Instead of this:
8. In Critters 4, the footage of the cargo retrieval ship, and docking with the spaceship are from Android(1982) but the footage of Ug's ship at the end are taken from Critters 2 (1988).
You can't blame the movie for using old footage, especially since it probably didn't have enough money for decent looking space effects (it was DTV and filmed back-to-back with Critters 3). Still, it's a fun little bit of trivia!
9. Warner Bros. announced plans to produce a web series reboot of the franchise
Let me temper your excitement on this one for a second. This web series was announced back in October of 2014 (along with plans for a Static Shock web series which….alright). If plans for this were serious, it would have premiered by now (or at least had a release date), but no further news has been announced on the project.
10. Jordan Downey wrote and directed a totally awesome 6-minute short film "audition" for said web series reboot.
If you're a regular reader of Bloody Disgusting then you probably already know this, but if you missed it back in December of 2014 (just two months after the web series was announced) then give it a watch! Jordan Downey was so in love with the Critters franchise that he wrote and directed this short film hoping that Warner Bros. would let him direct the web series! I'm surprised there hasn't been any momentum on that, because Downey's short film is awesome.
Share your Critters stories in the comments below and help celebrate the franchise's 30th anniversary!