Remember the Rumor That Bruce Campbell Was Going to Play Mysterio in Sam Raimi's 'Spider-Man 4'?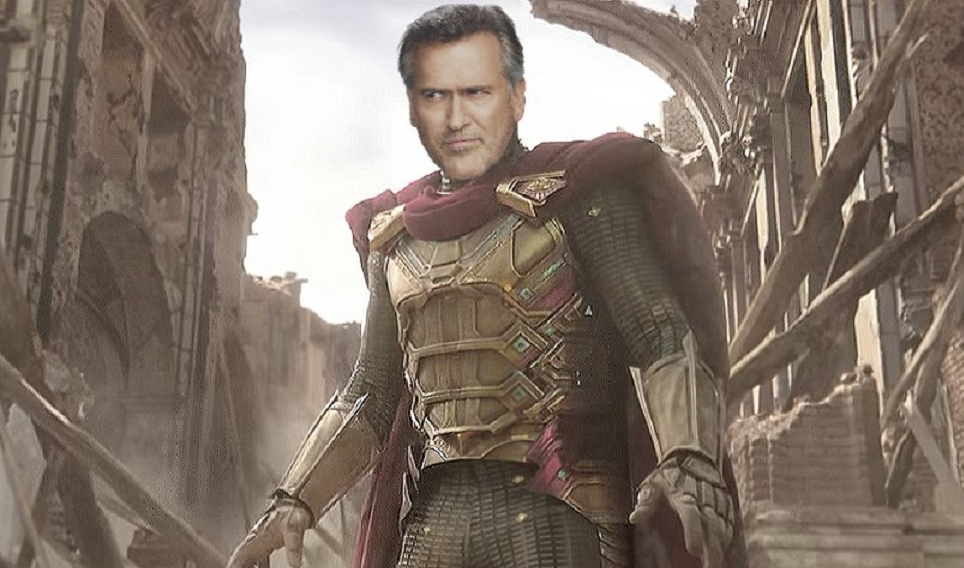 The fourth installment of Raimi's franchise was almost (maybe) one groovy superhero movie.
In 2007, the very same year that Sam Raimi's Spider-Man 3 was released, pre-production began on Spider-Man 4, with Raimi attached to direct the film. Various drafts of the script were written, and the fourth installment was reportedly to introduce comic book characters such as Lizard (Dylan Baker), Vulture (John Malkovich) and Black Cat (Anne Hathaway).
Long story short, Raimi ended up dropping out of the project by 2010, and Sony Pictures cancelled his Spider-Man 4. Not long after that, The Amazing Spider-Man rebooted the character entirely, spawning one sequel before Tom Holland became our new Spidey.
That of course brings us to this year's Spider-Man: Far From Home, which the official trailer gave us our first look at this week. For the very first time in live action, the second Tom Holland solo Spider-Man film will feature Spidey adversary Mysterio, being played by Jake Gyllenhaal; and yes, the trailer teases that he'll be rocking the fishbowl!
But according to rumor, Mysterio (aka Quentin Beck) was going to be one of the villains in Spider-Man 4. Specifically, the rumor was that Bruce Campbell would don the fishbowl.
Campbell is of course no stranger to working with Sam Raimi (duh), but he's also no stranger to the Spider-Man universe. As you surely recall, Campbell made cameo appearances as three different characters in Raimi's three Spider-Man movies (Ring Announcer, Snooty Usher and Maître d'), and he also voiced the Tour Guide for the Spider-Man, Spider-Man 2 and Spider-Man 3 video games. So where did the rumor start that Campbell was going to be playing a much meatier role in the planned Spider-Man 4? Well, it came from Campbell himself.
Back in September 2009, Campbell had told Access Hollywood that he was going to have a major role in Spider-Man 4, and one month later, MTV confirmed that with Raimi. But neither Campbell nor Raimi actually said that Campbell would be playing the master of illusions; Campbell noted he didn't yet know which character he'd be playing, while Raimi merely hinted that he promised Campbell he would be writing a "good, meaty role" for him. These comments fueled rumors that Campbell was playing Mysterio, but alas, the project soon died off.
More recently, Campbell has stated that Raimi never directly approached him about playing Mysterio in Spider-Man 4 (at one point he remarked, possibly joking, that he has no idea who Mysterio even is), but some weight was brought to the rumors when concept artist Jeffrey Henderson shared some pretty compelling storyboard art back in 2016.
Henderson not only confirmed that Mysterio was going to be featured in Spider-Man 4, but as many fans instantly noticed, his Mysterio drawing was a dead-ringer for Bruce Campbell!
The artist wrote on his website at the time, "It would've been one absolutely kick ass movie. Seriously. We were working on some crazy- cool stuff, because everyone, from top to bottom, felt that Spidey 3 was a bit of a 'missed opportunity', and we all really wanted to help Sam take SM4 to another level so he could end the series on a high note."
Furthermore, Henderson confirmed to io9 shortly thereafter that "the idea was floated of Mysterio being Bruce Campbell's cameo," and that the character would've been featured in an early montage loaded with "lesser" villains that Raimi didn't plan on prominently featuring within his Spider-Man franchise. Spider-Man 4's main villain was to be Vulture.
A cameo during an opening montage doesn't exactly sound like a "meaty role," but it seems pretty clear that yes, Bruce Campbell was at one point going to play Mysterio on the big screen. You can check out Henderson's concept art below, which leaves no question as to who he had in mind when conceptualizing the character's planned appearance in Spider-Man 4.
(Thanks to Twitter's @ThePeriQuill for the above fan art!)