[Blu-ray Review] 'The 7th Voyage of Sinbad' Shines on Blu-ray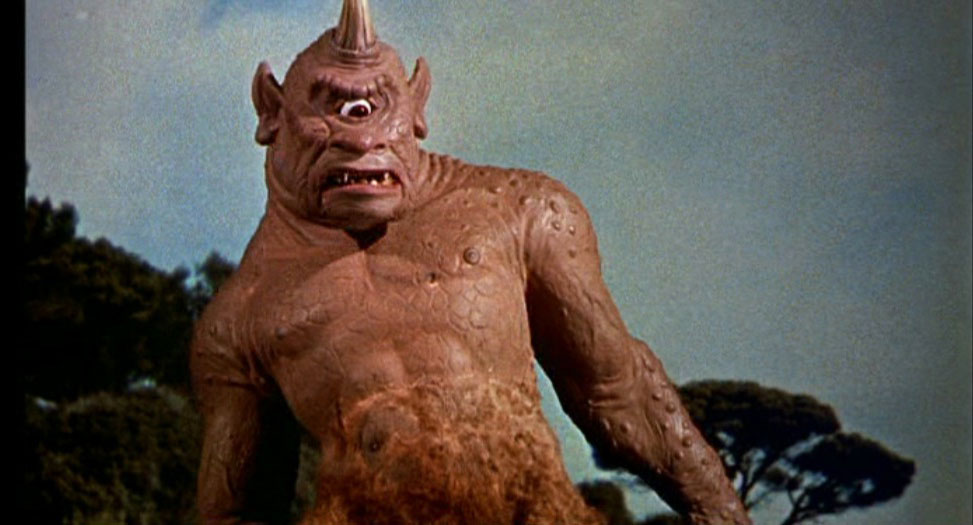 While I wouldn't say The 7th Voyage of Sinbad is the best movie featuring the work of Ray Harryhausen, it's arguably the most important. This film marked the first time we were able to witness the genius work of Harryhausen in color and was in fact the first film of any kind featuring stop motion animation to be shot completely in color. For that reason alone the film is quite groundbreaking, fortunately it's quite good as well.
On his way back to Baghdad with Princess Parisa (Kathryn Grant), Sinbad (Kerwin Mathews) stumbles across the Colossa Island. Sinbad decides to make a stop at the island to see if he can find any supplies and food for his crew. While out exploring the island the crew comes across a giant cyclops chasing a sorcerer named Sokurah (Torin Thatcher). Sinbad helps Sokurah escape and takes him on the boat to Baghdad.
While appreciative of Sinbad's assistance, Sokurah wants to go back to the island because he left his magic lamp. Like most magic lamps this one contains a genie with great powers. Sinbad refuses claiming the island is too dangerous. Unable to willingly convince Sinbad, Sokurah shrinks the Princess and advises that the only cure is on the island. Sinbad gathers a crew and head back to Colossa.
What often gets swept to the wayside when discussing Harryhausen movies is how good the other elements are. Harryhausen left such a large imprint on cinema that the other contributors to his films tend to get overlooked. Usually when we think of a movie we associate it with the director, the mega star getting top billing or occasionally the producer. Any other job on a film set isn't likely to factor into marketing. We don't say Tom Savini's Dawn of the Dead or James Horner's Aliens. Harryhausen is the exception to this rule and it's because his work was that special.
The 7th Voyage of Sinbad perfectly exemplifies how special a talent Harryhausen was. Yes, the creatures look very much like clay and yes, you can tell they're not actually next to the actors and yet your imagination is able to get swept away. His work is so fluid and detailed. Nothing ever looks clunky. Everything is swift and smooth. It's like a beautiful ballet. To this day Harryhausen's work holds up wonderfully.
As I mentioned up above there are plenty of other players here that deserve praise. Director Nathan Juran does a terrific job letting this Sinbad adventure unfold. Personally I find the biggest issue with these period piece fantasy adventures is that they bog down in the middle and get a little boring. Juran eliminates this problem by keeping the story moving at a quick pace. His directing style almost mirrors Harryhausen's animation in that both are so smooth.
Bernard Herrmann's score is the stuff of legend. It's amazing that Harryhausen didn't even want Herrmann to do the score initially and then it becomes arguably the most popular of all the Harryhausen films. Funny how stuff like that works. Harryhausen liked it so much he ended up having Herrmann score three more of his films.
The 7th Voyage of Sinbad isn't my favorite Harryhausen work and still I consider it a masterpiece. Pretty unfair that he has multiple masterpieces but such is the case. The addition of color added another dimension Harryhausen was able to take advantage of to bring his animation to life. This film was the start of what would be an incredible stretch in his career.
Now available on Blu-ray as part of a Harryhausen boxset from Via Vision Entertainment out of Australia (Region FREE!), the film looks great and is loaded with special features. The set as a whole consists of 4 films each on their own disc with their own special features. The 7th Voyage of Sinbad has the most special features. There's six different featurettes, an audio commentary with Harryhausen and others, a music video and a still gallery. That's a lot of bonus content!
I won't go into details on every feature but I do want to highlight my favorite which is John Landis interviewing Harryhausen. Aside from Landis being one of my favorite directors, he's also very much a movie geek like me. There's something special about seeing him nerd out with one of his heroes. It's a pretty cool to see how the people you look up to have that same fan boy passion.
So far this is the only disc I've watched on the Via Vision Entertainment set and it was nearly perfect. If the other 3 discs are 1/10 as good as this one, the set as a whole will be an overwhelming success.
The 7th Voyage of Sinbad is currently available on region free Blu-ray as part of the Fantastic Films of Ray Harryhausen box set from Via Vision Entertainment in Australia.