'He's Out There' and 5 More Hidden Horror Gems on Netflix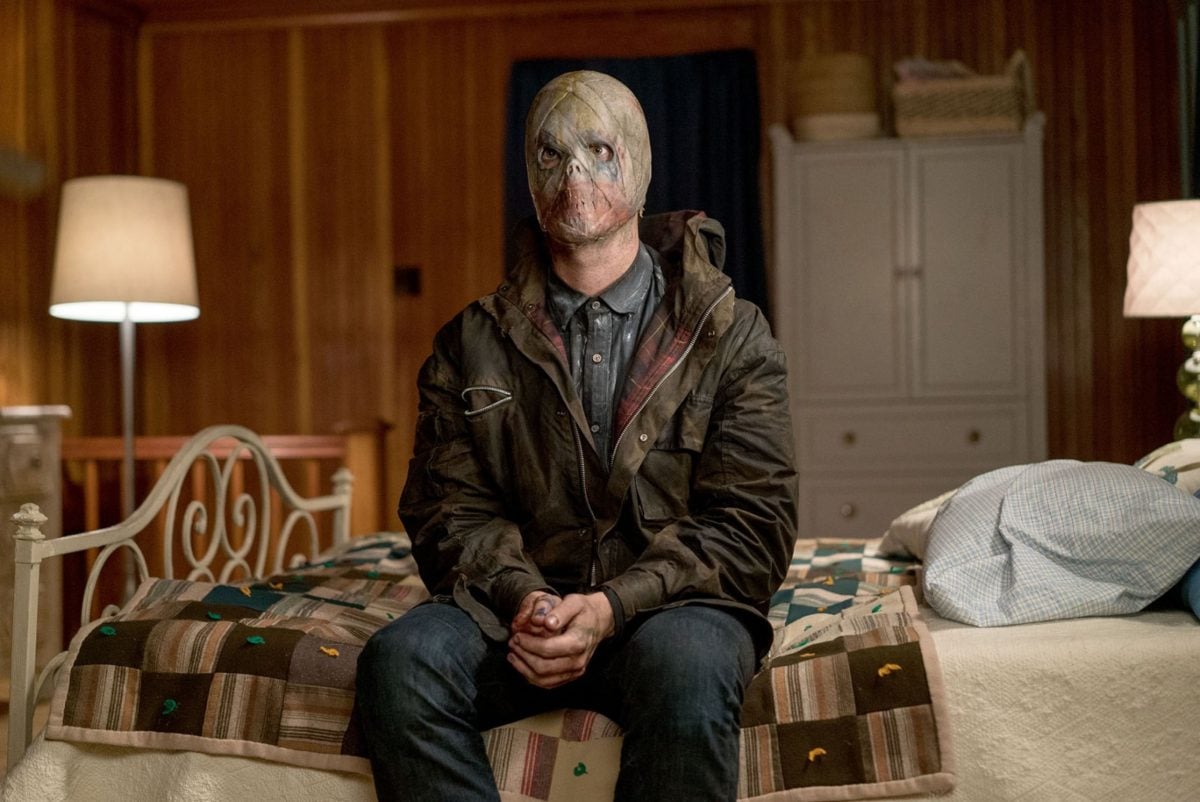 On January 12, Netflix quietly dropped He's Out There, a home invasion thriller starring Yvonne Strahovski. It's not easy to find, either, unless you specifically search for it. Granted, it's not a Netflix original and it did receive an equally quiet DVD and VOD release in October of last year, but it's still a curious fate. Once tied to director Dennis Iliadis (2009's The Last House on the Left), He's Out There is a debut feature for writer Mike Scannell and director Quinn Lasher (quite likely a pseudonym). It follows Strahovski's Laura, a mother spending a weekend at a remote lake house with her two young daughters. But the family's quiet vacation getaway turns into a fight for survival with the arrival of a masked psychopath.
For those familiar with the home invasion format, He's Out There doesn't offer anything new. And the high contrast, overexposed lighting can be a major distraction. It does, however, offer great moments of brutal kills and violence that's unexpected in a movie where almost half of the cast are children. The masked killer is creepy, and Stahovski is also a tough final girl that makes it hard to understand why she hasn't become more prominent. Basically, if you're a fan of the subgenre, then He's Out There is a decent selection for a cozy night in.
It's not the only genre film lurking on Netflix, hidden away from the main landing page and sometimes even generic searches for horror. Here are five more movies on the streaming service that are worth seeking out.
---
Boys in the Trees
This Australian coming of age dark fantasy film is set around Halloween, but is perfect for viewing any time. Written and directed by Nicolas Verso, based on his short film The Last Time I Saw Richard, Boys in the Trees is steeped in '90s nostalgia as it follows two estranged teen skaters as they journey home through old memories, dreams, fears, werewolves, and other strange creatures. Colorful, bittersweet, and full of wonder, this dark fantasy has a little bit of everything.
---
Calibre
This brutal thriller became a little less hidden when Stephen King tweeted about it last summer, but it still remains very underseen and slept on. A Scottish thriller that sees a horrific accident turn a weekend hunting trip into a nail-biting descent into paranoia for old friends Marcus and Vaughn, Calibre is an effective and well-executed tale of suspense. It's not horror, but adjacent enough and full of grisly moments that horror fans will enjoy anyway.
---
Ghoul
A miniseries from India, Ghoul is set in a totalitarian near future and follows a newly recruited military officer sent to a military detention center to interrogate a recently captured prisoner. But that prisoner continues to turn the tables on his captors, exposing their darkest secrets. The officer comes to suspect that the prisoner may be possessed by a demonic entity of Arab folklore, a ghoul. At only three episodes long, the miniseries doesn't waste any time getting into the jump scares and gore. It's a bit heavy-handed in its metaphors for guilt, but overall, it's a fun, creepy entry in horror hailing from India.
---
The Bar
Álex de la Iglesia's The Bar is a bizarre blend of tones and genres that only this director could make work. What begins as a bustling morning in a downtown bar/café, introducing us to all the eccentric characters, turns into a harrowing thriller when a mysterious sniper outside keeps them trapped within.  These friendly strangers then turn on each other as paranoia sets in and it becomes clear that they're under quarantine. De la Iglesia's brand of dark comedy gets really, really dark as he dissects humanity faced with death, and throws in body horror for good measure. This isn't for everyone; the bleakness and character decisions will piss some viewers off. But for those that are a fan of bleak humor or the director's work, this quiet Netflix release is a must.
---
Phobia 2
Don't worry, you don't have to have seen the first film to appreciate this horror anthology. There's no wraparound either, though each segment opens with shots on a road. Each segment is helmed by a notable Thai film director, including one each by co-directors Bangjong Pisanthanakun and Parkpoom Wongpoom of 2004's super spooky Shutter (also on Netflix, so add this to your queue if you haven't seen it yet) fame. While there are ghosts aplenty in this anthology, it does not skimp on visceral, gruesome deaths at all. After a successful run at the box office in Thailand upon release, and a successful film festival run, Phobia 2 never really landed a proper release stateside. Until Netflix, that is.