How the Massive Sinkhole Was Created for A24's 'The Hole in the Ground' [Interview]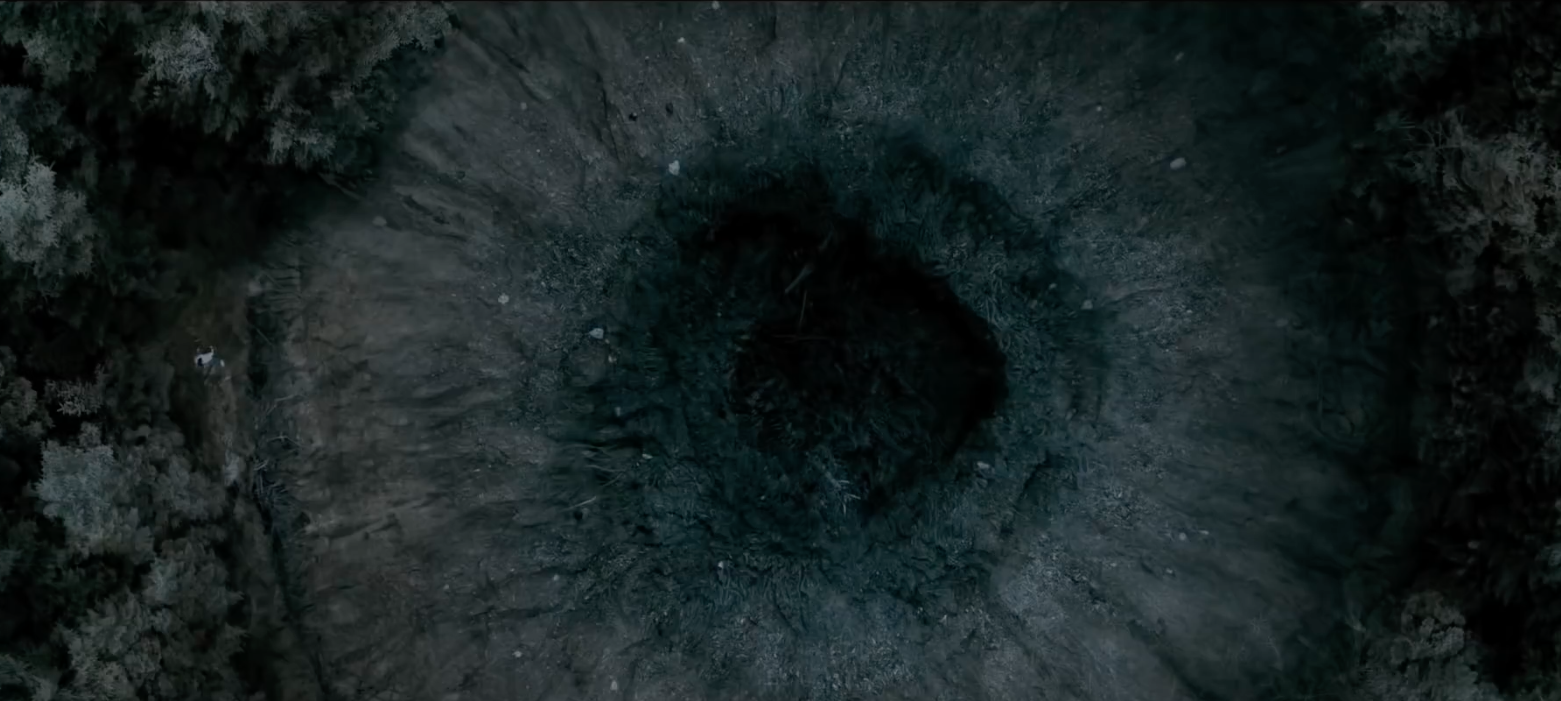 Some spoilers follow.
The Hole in the Ground has been on Bloody-Disgusting's radar for a year, and it had its Sundance premiere last weekend (read our review). First things first, as the title of the movie suggests, there has to be one giant hole in the movie… right? Indeed there is. And director Lee Cronin revealed the secret of the hole in the ground in a chat with us this week.
In short, they didn't actually dig a massive hole.
"We did not rule out that idea at one point," Cronin told us. "Was it possible to find a piece of land?"
"But no, it was a combination of a lot of things. There are some real elements in there. There are some shots that are fully real, I suppose, natural things. Some of the closeup shots and some walking shots around the sinkhole. Then obviously there are some visual effects, digital work going on as well. I always tried to extend what's there or somehow bring as many natural elements into play as well. It's a bit of a magic trick I suppose."
Seana Kerslake plays Sarah, a single mother who moves her son Chris (James Quinn Markey) to a remote house. In the back of the woods behind her house, she sees a giant crater. One night Chris temporarily disappears, and once he returns he's different. When it came to the hole itself, Kerslake had to imagine how deep it went.
"A lot of it was imagination. Just going okay, this is the perimeter of the hole and just trying to visually imagine how huge this hole was," she said.
The plot of land they found surrounded a giant tomb, which was removed in post-production.
"It was just like an ancient megalithic tomb that we found accidentally when we were looking for a circular clearing that was on some land that we were scouting, the right type of forest we were seeking," Cronin said. "Obviously we had to remove the tomb digitally afterwards but it kind of gave a certain provenance to the area that we were in. Everyone was kind of hushed and respectful so it gave it a little bit of an atmosphere on set for us as well."
"We were using some blue stuff on the ground because there was a lot of greenery there already," Cronin continued. "We were just kind of smart in how we shot it. We tried to not let that into frame. The joy of the computer now is it's not even necessary to cover stuff up anymore."
By the end of the film, Sarah has to go deep into the hole to save her son.
"That's a mother's love," Kerslake said. "I think some of those scenes were quite hard emotionally when you're putting yourself in that headspace, when you're thinking what's at risk. So it's quite a precarious line to try to walk on, to be professional and do your job but also you're dealing with all these other emotions. That's, I suppose, the art of acting. That was a tough one."
DirecTV subscribers can watch The Hole in the Ground starting January 31, and everyone can see it in theaters March 1.