[Exhumed & Exonerated] 'Ernest Scared Stupid' (1991)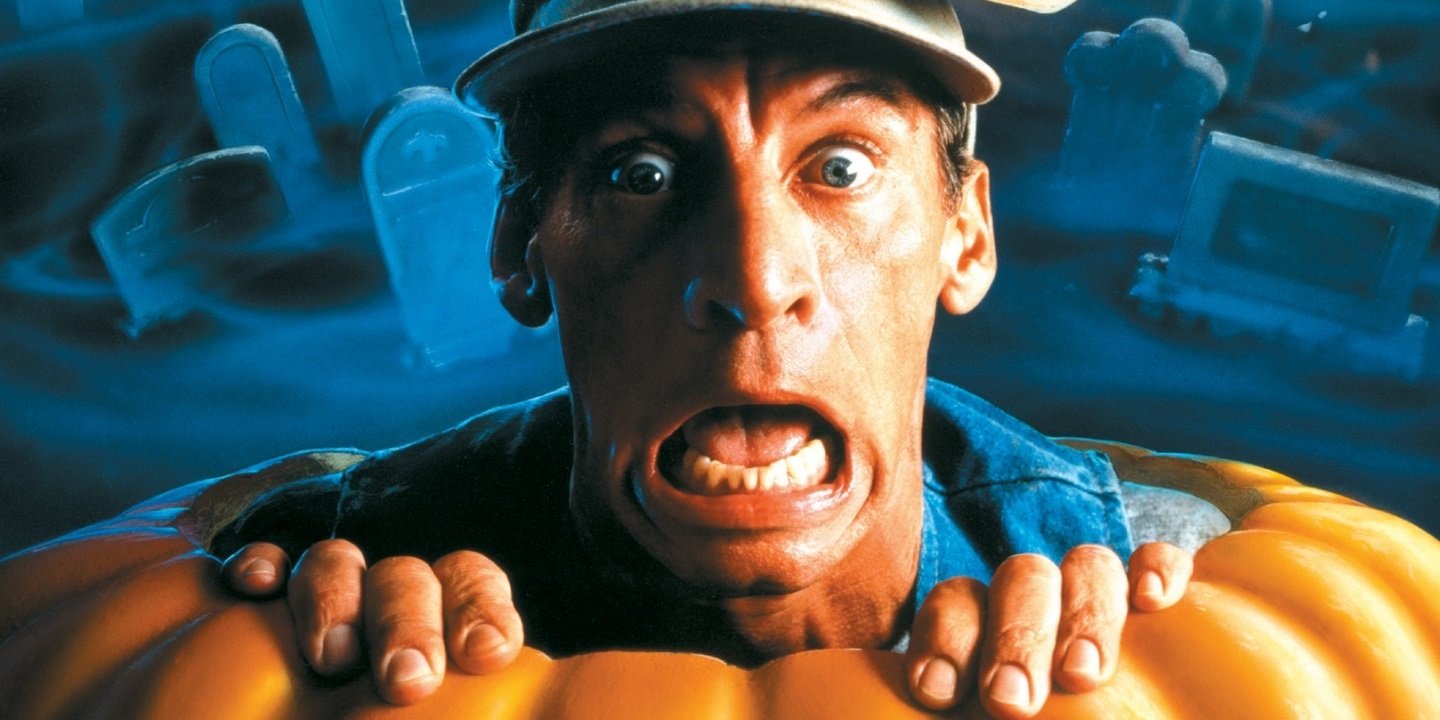 Every decade has its ups and downs when it comes to cinema, no matter the genre.  Horror fans love to loft on high the output of the '30s & '40s, the '70s & '80s, and the more recent decades.  More often than not, however, the 1990s are labeled as the worst decade for the genre.  Not only that, but '90s horror tends to be written off as a whole, beyond a handful of undisputed classics.  The purpose of Exhumed & Exonerated: The '90s Horror Project, is to refute those accusations by highlighting numerous gems from the decade.  Stone cold classics will be tackled in this column from time to time, but its main purpose will be to seek out lesser-known and/or less-loved titles that I think deserve more attention and respect from fans.  Let the mayhem begin!

Ernest Scared Stupid
Directed by John R. Cherry III
Screenplay by John R. Cherry III, Charlie Gale, and Coke Sams
Produced by Stacy Williams, Martin Erlichman, and Coke Sams
Starring Jim Varney, Eartha Kitt, Austin Nagler, Shay Astar, Alec Klapper, John Cadenhead, and Bill Byrge
Released on October 11, 1991
Ernest P. Worrell, now the chief sanitation worker for Briarville, Missouri, finds himself up to his elbows in trolls when he accidentally unleashes an ancient curse upon the town. With only a few kids believing the insanity that stalks the streets, Ernest must discover his own connection to this curse and figure out a way to put a stop to it all as terror descends upon Briarville on Halloween night. What chance does the world have against evil when Ernest is its chosen savior?
Horror comedies are always a tricky thing, especially when they target general audiences. While the likes of the Evil Dead sequels (and current TV series) and Tucker & Dale vs. Evil are no small feats of perfection, they can often fall back on outrageous (and occasionally offensive) gore-filled sequences for laughs at times. No such luck when it comes to more family-friendly horror comedy fare. That's not to say that Ernest Scared Stupid doesn't have its fair share of goopy special effects work. It absolutely does, but their usage is somewhat different. More on that later.
Lately, I have found myself thinking about horror comedy sequels (or loose follow-ups) in regards to comedy troupes. In spite of the fact that this gem is celebrating its 25th year of cinematic existence, that's actually what caused me to choose it right now. It's a funny thing, horror and long-running comedy groups. They mix together often…
Abbott & Costello Meet Frankenstein is often viewed as the pinnacle of such genre-mashing. Bud and Lou didn't stop there, however, with the legendary comedic duo taking on spooks (Hold That Ghost), murderers (Abbott & Costello Meet the Killer, Boris Karloff), and even more monsters (Abbott & Costello Meet the Mummy, Abbott & Costello Meet Dr. Jekyll & Mr. Hyde, and Abbott & Costello Meet the Invisible Man). They even did a TV appearance that made sure to work the Creature from the Black Lagoon into the proceedings.
Mel Brooks tackled such a mash-up a few times, most famously with Young Frankenstein, but also with the likes of High Anxiety and Dracula: Dead & Loving It. The Bowery Boys, another classic comedy troupe, did six such films (out of almost 90!) through their various incarnations from the late '30s up through the late '50s. The Three Stooges had We Want Our Mummy (among others) and Laurel & Hardy had A Haunting We Will Go. More recently, we've seen Broken Lizard (2004's Club Dread) and Tyler Perry enter this realm, with the latter's Boo! A Madea Halloween arriving in theaters this very week.
In light of all of this, I'm glad that Ernest P. Worrell managed to make his own entry into this would-be canon of horror comedy history. Lucky for him, it was a good one too! Jim Varney brand of comedy is a very specific one and I suspect that many have and/or will find it grating. Most comedy is a product of its time and the nine Ernest films are no exception, at least based upon the ones I have personally seen. Varney's distinctive mannerisms and energy even take some getting used to from fans, if you haven't viewed one of his films in a long time.
So how does Ernest Scared Stupid measure up? Very well. While my love has always skewed more towards Ernest Saves Christmas and (especially) Ernest Goes To Jail, there's no denying how fun this fourth entry in the (once) popular franchise is. The film is far more kid-centric than both of those, positioning Ernest as someone who is more comfortable being friends with children, which actually works in its favor. A big kid at heart himself, Varney has a strong rapport with his child co-stars that helps smooth over their acting deficiencies.
The plot is an old school dark fairytale-esque one, something that is wholly backed up by the film's look and tone. We even get the classical doomsayer in the form of a seemingly-crazed old woman living in the woods, played by the incomparable Eartha Kitt! You've gotta love it. Well, you don't have to, but I certainly do. I'd also be remiss if I didn't bring up the superb opening sequence, which sees footage from countless B-movie staples mixed up with footage of Varney mucking about and reacting to spooky sounds, Scooby-Doo-style.
Of course, beyond just the memorable gags and lines, the film also has some great FX to stand on. Courtesy of the Chiodo Brothers (Killer Klowns from Outer Space), Trantor and his troll offspring all look great. In fact, they look like they rolled off the set of an '80s Jim Henson dark fantasy production, further embracing those previously-mentioned fairytale overtones. A few of them also look more than a little familiar.
There's no getting around the fact that I look upon this film with nostalgic eyes. As much as I can try to be objective, there will always be an element of that at play whenever I sit down with this film. To curb that, for this viewing I brought my own children along for the ride. They are always down to love a "new" movie, but also often quick to abandon one if it is not to their liking. For better or worse, children can often be brutally honest. Lucky for Ernest Scared Stupid, they fell head over heels for it. So much so, in fact, that they want to watch it again soon.
Is Ernest Scared Stupid a horror comedy masterpiece on the level of Young Frankenstein or Abbott & Costello Meet Frankenstein? No, but it also isn't trying to be. It's simply a wildly entertaining genre mash-up aimed at kids. On that front, it absolutely sings. The FX hold up and so do the laughs, providing that Jim Varney's iconic comedy persona is up your alley. If you haven't seen it in awhile, give it a whirl (Worrell?). Bring some kids along for the ride too, if you can. Don't kidnap any, of course, but if you don't have children of your own, nieces, nephews, younger cousins, or your babysitting subjects will work fine as well. It's a great choice to help (further) introduce them to the genre, especially this time of year. Knowhutimean?
Up Next: Cape Fear (1991)
Previously On…
Species | Mute Witness | Popcorn | Wishmaster | Alien 3 | Cast A Deadly Spell
Disturbing Behavior | The Sect | The Addams Family | The Ugly
Henry: Portrait of a Serial Killer | Arachnophobia | Ernest Scared Stupid