Mr. Disgusting Picks the Best Horror Films of 2008!
What a year, what a year. While everyone else includes DVDs in their best and worst lists, I solely focus on films that hit theaters. While compiling my lists, I couldn't believe how hard it was to pick ten films that I felt were worth even mentioning as "the best". While I barely succeeded, the worst list was much easier, which was pretty disappointing from my standpoint. That means this was a lousy year for horror and that the majority of horror films released were bad. Looking forward to 2009, I can't say I expect anything different next year, but one can only hope… beyond the break you can check out my list of the best horror films of 2008. Don't forget you can chime in with your own lists and thoughts below, or write your own reviews in our MoviePit.
Other Best & Worst Lists:
Mr. Disgusting's Best & Worst / Ryan Daley / BC's Best & Worst / David Harley's Best & Worst / Tim Anderson
Also check out this year's Best & Worst Posters
Mr. Disgusting Picks the Best Horror Films of 2008!
---
10. Splinter (October 31; Magnet Releasing)

"The creature feature is loaded with blood, guts, gore, the perfect anti-hero and a hilariously fun plot, which is played straight until the very end.. Wilkins delivers a simple, yet effective '80s creature feature that's not only scary, but also a great time."
---
9. Rogue (August 5; Magnolia)

When this film got delayed again and again I started to think that there was something wrong. Typically when a film is shelved there's a reason. When I finally got a chance to see McLean's follow-up to WOLF CREEK I was blown away. I guess I can understand why the film wasn't given a major release, especially after the other giant croc pic, but it sucks that ROGUE took the fall. The film features a high level of suspense, beautiful camerawork and a giant croc that delivers exactly what it promises – total destruction. This movie is a gem that I will watch over and over again.
---
8. Repo! The Genetic Opera (November 7; Lionsgate)

"REPO! is a special treat, a film that should have never been, the bastard child of a studio, something that is so distinct that you can barely begin to compare it to anything else. If you're a fan of musicals, I GUARANTEE that this will become a cult classic in your collection, for everyone else this is a unique film that – whether it's good or bad – will give you a new theatrical experience. And that's something special in this day and age."
---
7. The Ruins (April 4; DreamWorks)

"THE RUINS has turned over a new leaf in horror and will get inside even the thickest of horror fans' skin."
---
6. The Midnight Meat Train (August 1; Lionsgate)

"Liongate's TMMT is the first BOOK OF BLOOD to depart from the station in a long time and it's refreshing to see that the film carries that bleak, yet romantic touch of Clive Barker all over it. MEAT TRAIN is guaranteed to make you squirm, scream and beg for more."
---
5. Quarantine (October 10; Sony Screen Gems)

I have never had such a hard time writing a review in my life. I had seen [REC] almost exactly a year before I saw the remake from Sony Screen Gems. To my surprise QUARANTINE was nearly the exact same film. When I went to write my review, it literally felt like I was rewriting my review for [REC] and originally gave up. You might as well just read my review for the Spanish original. "[REC] has it all and is probably one of the best Spanish horror films in recent memory… I give it the B-D stamp of approval and smile at the fact that something extraordinary has finally come out of Filmax."
---
4. Vinyan (TBD 2009; Sony)

"While the film is sure to disappoint most horror fans, filmmaking connoisseurs will find solace in a piece of art that is left open to various interpretations. VINYAN is true to Welz's vision and exactly what he promised to deliver, the only failure would be that it's not for the majority – but isn't that what makes a movie special?"
---
3. Cloverfield (January 18; Paramount)

"CLOVERFIELD is one of those films you wish you could see for the very first time again because the impact will just never be the same on second viewing. I treasured the experience of getting to see this in the theater and it will forever leave a mark on me."
---
2. Let the Right One In (October 24; Magnet Releasing)

LET THE RIGHT ONE IN is truly a masterpiece of filmmaking that is not only beautiful, but also grim and surreal. While most people (incorrectly) find this to be a coming-of-age love story between a boy and a vampire girl, the deeper meaning is what makes this such a grizzly hardcore adaptation. When the truth of the "girl" is uncovered, that's when the deep-seated meaning shows itself… leaving you shaken and disturbed.
---
1. Martyrs (TBD 2009; Dimension Extreme)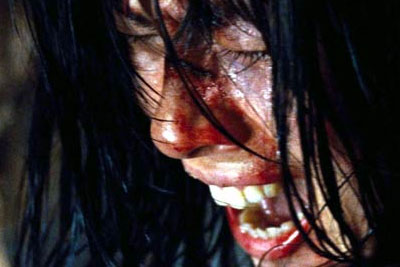 "MARTYRS is this year's INSIDE, both films are legendary in their own right… By the end of the film MARTYRS becomes immensely uncomfortable, and making it through the final 30 minutes is a tough task. The only negative thing about Laugier's film is that once you see it, you'll never be able to see it for the first time ever again…"
---
Bonus Gem: 6 Films to Keep You Awake (August 18; Lionsgate)

What a deal, what a deal! A whopping six films in one DVD collection that features four films that easily deserve to be in theaters, one that's just OK and one that should be burned and never seen again. But if you need a reason to pick this up, just check out CHRISTMAS TALE, from director Paco Plaza, co-director of [REC]. It's an incredible '80s throwback with fun characters and an '80s charm that makes it almost feel like it was actually made 20 years ago.
---
Honorable Mentions:
There were a few other films I really enjoyed this year, including the Spanish time travel thriller Timecrimes and the French sci-fi horror flick Eden Log (if you can sit back, relax and enjoy a slow burn). Another film I can't wait for everyone to see is Deadgirl, which I caught at the Toronto International Film Festival. Speaking of Film Festivals, everyone should check out the micorbudget Baghead, which I caught at Sundance last January. It's on DVD now from Sony Home Entertainment and is a close spoof of FRIDAY THE 13TH. It was nice to see so many independent films coming through in the end. Lastly, I have to give props to Lloyd Kaufman for giving is the distasteful Poultrygeist, a film that features some of the most disgusting images every to hit my TV (including a penis tip on the end of a mop). The one film I really wanted to include on my list but couldn't was Dance of the Dead. My list is reserved for theatrical releases or films I have seen in a theater, unfortunately DANCE went direct-to-DVD. The '80s zombie homage has infinite replay value and loads of gore, I will be revisiting it regularly in the coming years.