Meet the Man Who Played the Demogorgon in "Stranger Things"!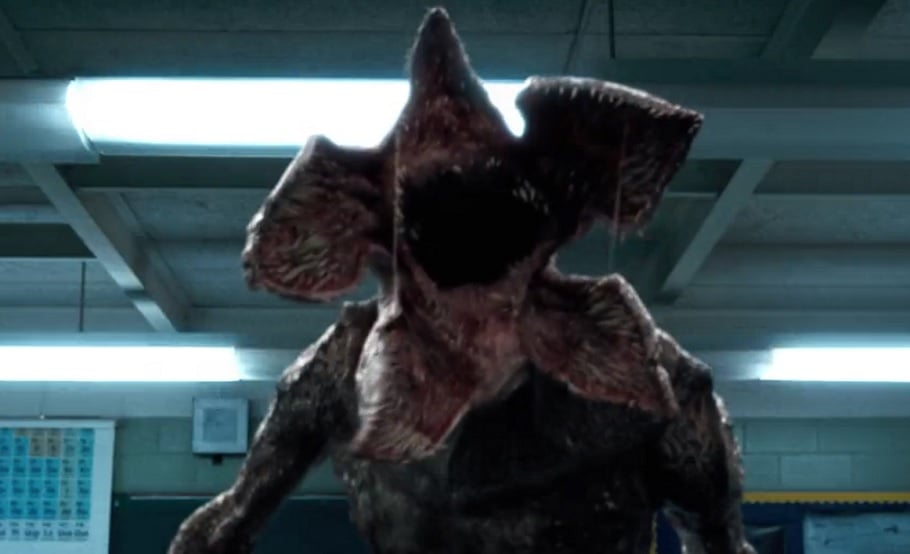 When you see him, you fireball him.
Every great horror story needs a great monster, and in Netflix's hit series Stranger Things, the monster is certainly a memorable one. With its petal-like head that opens up into a massive mouth, the show's main villain has been compared to everything from an Alien Xenomorph to a creature ripped out of Guillermo del Toro's worst nightmares, and it's fittingly dubbed "the Demogorgon" by Mike and the gang – a reference to one of the most iconic monsters in Dungeons and Dragons.
How did the Duffer Brothers and their team bring the Demogorgon to life, you ask? As many fans have noticed and pointed out, a good deal of computer-generated imagery was employed for some of the scenes where the monster emerges from the Upside Down and crosses over into our world, but what you may not have realized is that the creature was partially brought to life the old-school way. Stranger Things is of course one big ole homage to the cinema of the 1980s, and staying true to the way things were done back then, the Duffers flexed their practical muscles and put a man in a rubber suit.
That man was Mark Steger, credited as "The Monster" in six of the show's eight episodes.
As it turns out, Steger is one of Hollywood's leading men when it comes to bringing otherworldly creatures to screens both big and small, and his resume extends well beyond playing the Demogorgon in Stranger Things. The body-based performance artist has been utilizing his unique abilities since moving to Los Angeles in 1995, and his work as a creature and stunt performer has been highlighted in many movies and television shows that you've no doubt seen and enjoyed.
Mark Steger, dating back to the early 2000s, performed stunt work in the horror films The Unborn, Priest, and the remake of Fright Night, and on his acting resume you'll find films like Men in Black 2, I Am Legend, The Pact, At the Devil's Door, Resident Evil: Afterlife, World War Z, and The Last Witch Hunter. Last year, he portrayed Tobi in Paranormal Activity: The Ghost Dimension, and he was also the nightmarish "Bunny Man" in this year's horror anthology Holidays – if you've seen it, you'll damn sure never forget Steger's performance. On the small screen, the award-winning performer was a choreographer on American Horror Story: Coven, and he played "Addiction Demon" on American Horror Story: Hotel.
So how did Steger get cast in Stranger Things? It was perhaps a role he was destined to play.
"All the work that I've done – as an animator and live performer, creating other beings that inhabit other realms –  has brought me to this point," Steger told us in a written statement. "I got a call to meet with The Duffer Brothers about a new series. [They] immediately impressed me as smart and easy going with a very youthful enthusiasm. They showed me designs but said very little about the project. They talked about doing the creature effects practically with some VFX enhancement, and mentioned John Carpenter's The Thing and the original Alien as influences. I knew the designer, Aaron Sims, whom I had worked with on previous projects, and who I first worked with on I Am Legend. I told them of my experience as a live performer, actor, creature performer, and animator. It was a good vibe. Fun. I wanted to do it. I was very honored to be hired for the job."
"We spoke about influences for the creature – John Carpenter's The Thing was an important one," he continued. "They envisioned The Monster like the shark from Spielberg's Jaws, a predator that exists in a different realm that crosses over in order to feed. The Monster is very primitive in that sense."
"We started the development process with Mike Elizalde and his team from Spectral Motion – one of the premiere FX shops, working with amazing artists and technicians," Steger wrote, digging into the creation of the monster. "There were fittings and tests over the course of several months. Gradually adding flesh, animatronics, batteries and servos. After reading the scripts (the ones that were finished), I arrived in Atlanta, where the show was shot.  We did a lot of movement tests, sussing out the capabilities of this creature."
"There's a good deal of sensory deprivation that happens when I inhabit an elaborate creature suit," he described the experience of playing the Demogorgon. "My vision and hearing are often impaired, if not completely cut off. Sense of touch is isolated to what I feel in the suit. There's an overwhelming smell and taste of the materials that I'm fabricated from. When I first don the suit, there can be a strong sense of claustrophobia. And now my biometrics are altered in other ways – I'm taller, I must create extra joints (or they're not where they usually are) and different ways of moving, extra appendages. Then I feel like THIS is my body. Then I feel truly alien and other. And I know that I'm a Monster from another realm in this narrative, one that breathes a different atmosphere."
"I absolutely LOVED working with all the young performers on this show. Chasing and fighting the teens and the kids. Millie Brown, Charlie Heaton, Natalia Dyer, Caleb McLaughlin and Gaten Matarazzo, Noah Schnapp and Joe Keery. And of course Winona Ryder. Great experience with all of them."
Reflecting, Steger hit the nail on the head of what Stranger Things means to all of us.
"This experience helped me remember why I love film," he ended his statement.
Check out Mark Steger's impressive (and often creepy) performance and choreography reel below, and learn more over on his official website, found at MarkSteger.net!