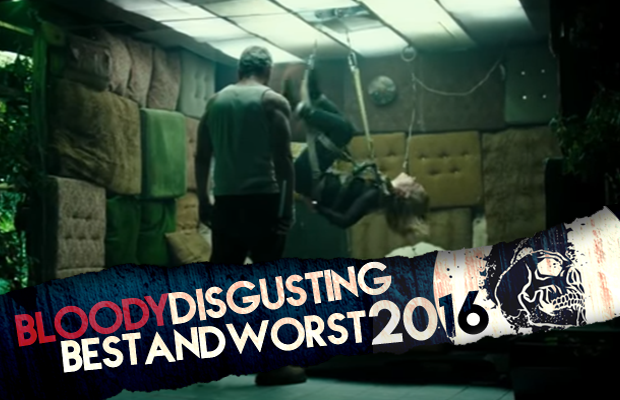 Mr. Disgusting's Top 10 Horror Films | Several More Must-See Horror Films | Kalyn's Top 10 | Trace's Top 10 | Trace's Worst 5 | 10 Best Posters | Worst Posters | Best Trailers | Luiz Picks the Best Horror Shows | Chris' Best Blu-rays | 2016: The Year Netflix Embraced Horror | 10 Sci-fi Movies You May Have Missed | 13 Most Disturbing Horror Movie Moments |
5 Pretty Good Horror Movies You Might've Missed in 2016
[Poll Results] The Bloody Disgusting Readers Chose the 10 Best Horror Movies of 2016
10 Biggest Horror Stories of 2016
Let's Play Pretend and Give Academy Awards to 2016's Best Horror Movies
---
One of my favorite parts about all of these year-end lists is going back through all of the horror films I've seen that year and picking out the most fucked up scenes to include on the "Most Disturbing Movie Moments" list. I think it may actually be my favorite list to compile at the end of every year. Does that make me depraved? Maybe. Do I care? Not really. Anyway, below are 12 of the most disturbing scenes the horror genre gifted us with in 2016. To qualify for this list the scene in question had to inspire some sort of visceral reaction in the viewer. It didn't necessarily have to be gory or violent. It just had to provoke a strong reaction from the viewer. For the sake of not letting readers feel left out, films that only screened at festivals this year were not taken into consideration. Those films will go on 2017 lists (should they actually get a release in 2017).
***WARNING: NSFW and SPOILER-FILLED imagery & videos below.***
 Drinking the Kool-Aid – The Invitation
Karyn Kusama's The Invitation is a masterful exercise in unbearable tension that culminates in a dinner massacre so shocking that it had people screaming in the theater. Out of context it probably doesn't seem that disturbing, but after 70ish minutes of slow-building paranoia and dread the cathartis that the scene provides is astounding.
---
The Rape in Hell – Baskin
First-time director Can Evrenol shocked audiences this year with Baskin, a self-proclaimed trip to Turkish Hell (which is apparently worse that regular Hell). There are a plethora of disturbing moments throughout the film's 97-minute runtime, the worst of which is when one of the cops is forced to have sex with a woman wearing a goat's skull. It's a stomach-churning moment in a film filled with them.
---
Got a Tampon? – Emelie
Emelie is a perfectly average psycho babysitter movie bolstered by a bravura performance from Sarah Bolger (The Lazarus Effect). In one of the film's more unsettling scenes, Jacob (Joshua Rush) finds Emelie (Bolger) in the restroom during a game of hide and seek. After informing him that she's on her period, she proceeds to make him find a tampon for her. Best babysitter ever!
---
Nothing Wrong With Necrophilia – The Neon Demon
Jena Malone is arguably the best thing about The Neon Demon, Nicolas Winding Refn's pretty but hollow psychological horror film. The film received a jolt of energy every time she came (in more ways than one) on screen. Something that didn't come to life was the corpse she had sex with towards the end of the film. Not much else needs to be said about this scene, but suffice it to say if you don't like saliva, you should probably steer clear.
Up Next: Vagina Eggs and Broken Bones
AROUND THE WEB
COMMENTS