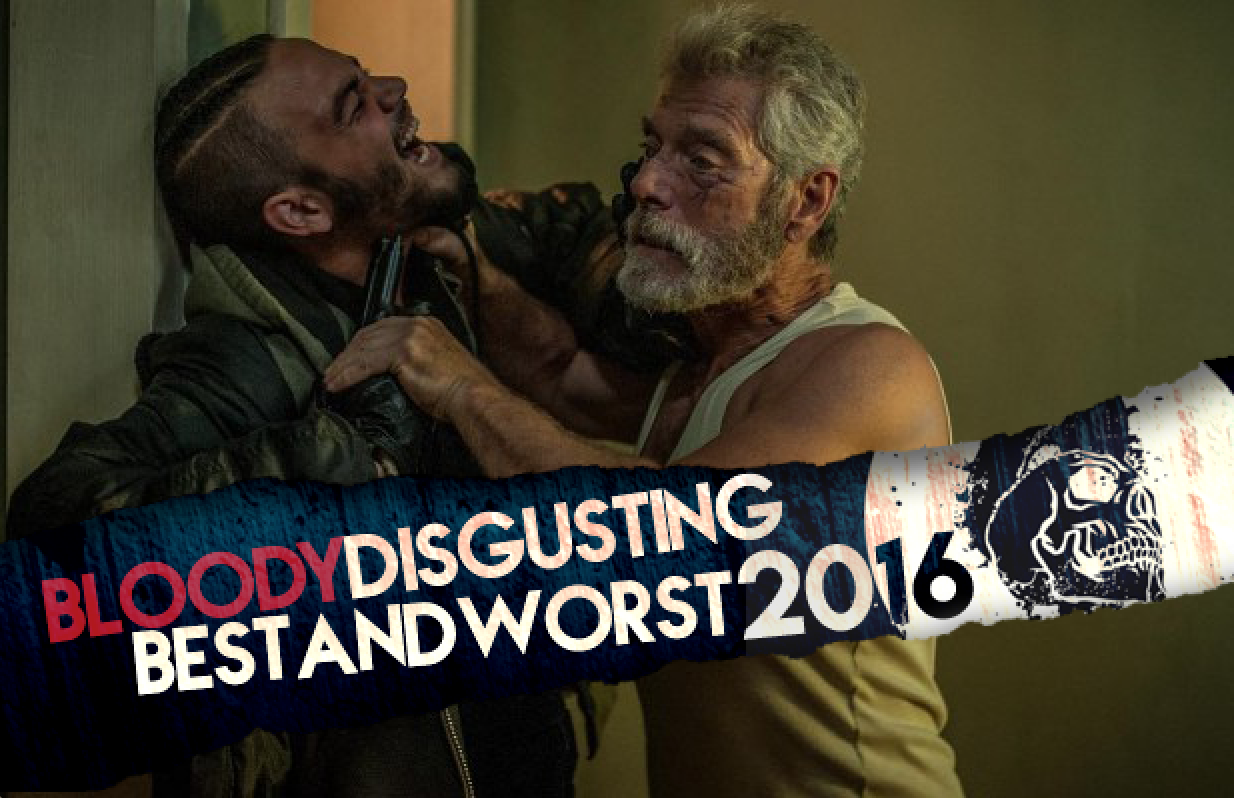 Mr. Disgusting's Top 10 Horror Films | Several More Must-See Horror Films | Kalyn's Top 10 | Trace's Top 10 | Trace's Worst 5 | 10 Best Posters | Worst Posters | Best Trailers | Luiz Picks the Best Horror Shows | Chris' Best Blu-rays | 2016: The Year Netflix Embraced Horror | 10 Sci-fi Movies You May Have Missed | 13 Most Disturbing Horror Movie Moments |
5 Pretty Good Horror Movies You Might've Missed in 2016
[Poll Results] The Bloody Disgusting Readers Chose the 10 Best Horror Movies of 2016
10 Biggest Horror Stories of 2016
Let's Play Pretend and Give Academy Awards to 2016's Best Horror Movies
---
2016 was a pretty phenomenal year for horror. There was a winner released nearly every month and sometimes even more often than that. Even summer, which was overall a box office disappointment, was saved by horror films like The Conjuring 2, The Shallows and The Purge: Election Year. This made singling out 10 of the best films rather difficult, but somehow I prevailed. In an attempt to reduce reader frustration I have left off any films that I saw at festivals that haven't seen a release yet. I did the same thing last year, so that means that some films I saw last year at festivals that saw a release this year were eligible for placement on this list. I didn't get to see quite as many horror films as I would have liked (only about 70 out of 120), but to see what was up for consideration you can see the list of 2016 horror films I watched on my Letterboxd page. Let's get started, shall we?
Honorable Mentions
As mentioned above, there were a ton of great horror movies this year. Unfortunately not all of them could make my Top 10. Here are some of the films that I thoroughly enjoyed but aren't exactly the best of the best (of the best).
Let's start with the mainstream releases. Had Arrival (my review) been an actual horror film it would have easily cracked the Top 5 in this list, but since it's a bit of a stretch to call it a horror film I left it off. If you haven't seen it yet stop reading now and go see it immediately. It's brilliant. Also brilliant? Yeon Sang-Ho's Train to Busan, one of the most fun zombie movies to come out in over a decade. After all the controversy surrounding the new Ghostbusters, I was surprised to find out that I enjoyed it quite a bit. It is a lot of fun and set up what could be a wonderful franchise, but it looks like that won't be happening any time soon. Many of you gave us a lot of crap for liking Blair Witch (my review), but I maintain that it is the sequel we deserved 16 years ago. It's a tense, exciting film that was a perfect way to end the summer. Finally, Jaume Collet-Serra's The Shallows proved against all odds to be the perfect form of escapism. Who knew watching Blake Lively on a rock for 90 minutes would be so entertaining?
On the indie front we had Mickey Keating's Darling (my review), a beautiful homage to films like Repulsion. Bernard Rose (director of Candyman) surprised everyone this year with a modern adaptation of Frankenstein. Bryan Bertino (The Strangers) had a return to form with the heartbreaking The Monster. And how could we forget about The Autopsy of Jane Doe? André Øvredal's (Trollhunter) spooky haunted house movie is an exciting roller coaster ride that is marred only by a middling final act. Finally, the best B-movie to come around in a long time is Pet (my review), a film with a second act twist so great it would be a crime to spoil it here.
Up Next: My Top 10 Horror Films of the Year
AROUND THE WEB
COMMENTS